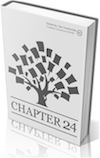 The people of the Interaction-Design.org Foundation have given us (and you) preview access to "Socio-Technical Systems Design", the 24th chapter of the "Encyclopedia of Human-Computer Interaction"
A socio-technical system (STS) is a social system operating on a technical base, e.g. email, chat, bulletin boards, blogs, Wikipedia, E-Bay, Twitter, Facebook and YouTube. Hundreds of millions of people use them every day, but how do they work? More importantly, can they be designed? If socio-technical systems are social and technical, how can computing be both at once?
The huge 30,000 word "chapter" has taken over a year to produce, involving 2 authors – Brian Whitworth and Adnan Ahmad – and 3 editors, including Mads Soegaard and Rikke Friis Dam.