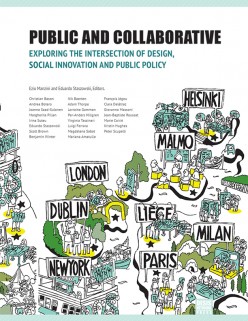 Public and Collaborative
Exploring the intersection of design, social innovation and public policy
Ezio Manzini and Eduardo Staszowski (Editors)
New York, September 2013, 181 pages
Download [Alternative links 1 – 2]
This book edited by Ezio Manzini and Eduardo Staszowski documents and presents some reflections on efforts of DESIS Labs in Europe, Canada, and the United States that are participating in the Public and Collaborative Thematic Cluster. It includes 11 articles that present from a critical perspective the labs' projects and activities during the 2012-2013 period. The book opens with Christian Bason's paper, "Discovering Co-production by Design". In this paper Bason, Director of Denmark's MindLab, proposes a broad view of how design is entering the public realm and the policymaking processes. His essay offers updated and stimulating context for the entire book.
Table of Contents
Introduction
Ezio Manzini, Eduardo Staszowski

Foreword

Discovering co-production by design
Christian Bason, Director of Mindlab, Denmark
This article explores how design methods, including user research and involvement, ideation, prototyping and experimentation, are experienced and used by public managers.

Chapter 1: Designing new relationships between people and the State

Peer-production in public services: Emerging themes for design research and action
Andrea Botero, Joanna Saad-Sulonen, Aalto University, Helsinki, Finland
This article collects a set of emerging themes for design research and action, based on lessons learned from case studies and research projects in Helsinki, Finland that deal with peer production of public services.
Service design for intercultural dialogue: Making a step forward towards a multicultural society
Margherita Pillan, Irina Suteu, Politecnico di Milano, Milan, Italy
How to promote social cohesion in multicultural urban environments? What role can service design play with respect to a full acceptance of social change due to multicultural complexity? How can we contribute to public service innovation so to correspond to multicultural issues?
Reflections on designing for social innovation in the public sector: a case study in New York City
Eduardo Staszowski, Scott Brown, Benjamin Winter, Parsons The New School for Design, New York, USA
This article examines the "Designing Services for Housing" project as a case study for identifying various challenges designers face in working in collaboration with public partners to effect social change in the public realm.

Chapter 2: Design schools as agents of change

Seven reflections on design for social innovation, students & a neighbourhood
Nik Baerten, Pantopicon, Antwerp, Belgium
The process to involve students from several schools and neighborhood inhabitants as well as the public sector in design activities aimed at social innovation, presents a series of challenges worth reflecting upon. This article presents seven key learnings, using the "Welcome to Saint-Gilles" project as its main inspiration and case study.
Learning together: Students and community groups co-designing for carbon reduction in the London Borough Of Camden
Adam Thorpe, Lorraine Gamman, Central Saint Martins College of Art and Design, London, UK
This article reflects on how the University of the Arts London (UAL) DESIS Lab, working in partnership with the London Borough of Camden's Sustainability Team, supported students from CSM's BA Product Design and MA Applied Imagination courses to collaborate with local residents to design new ways to change behaviors to reduce carbon emissions.

Chapter 3: Experimental places for social and public innovation

Participatory design for social and public innovation: Living Labs as spaces of agonistic experiments and friendly hacking
Per-Anders Hillgren, Malmö University, Malmö, Sweden
This article will present some learning's and reflection on what role we as a design school can take when running a DESIS lab where we approach several of the urgent challenges that face society today.
From welfare state to partner state: The case of Welcome to Saint-Gilles
Virginia Tassinari, MAD, Genk, Belgium
This article shares a series of reflections on the nature of Public Innovation Places (PIP), looking at the process that eventually can lead to establish a PIP and at the role of design schools therein – starting from the concrete experience of the project 'Welcome to Saint-Gilles'.
Innovation without boundaries: Ecology of innovation and municipal service design
Luigi Ferrara, Institute without Boundaries, Toronto, Canada
Magdalena Sabat, New York University, New York, USA
The Institute without Boundaries (IwB)'s emphasis on design thinking and an ecology of innovation approach have enabled creative interventions and design solutions for the public service sector. The article describes the IwB's collaborations with the cities of Markham and Dublin.

Chapter 4: Collaborative design – methods and tools

The Teen Art Park Project: Envisioning spaces for artistic expression and social sustainability
Mariana Amatullo, Design Matters at Art Center College of Design, Pasadena, CA, USA
This essay presents the Teen Art Park Project as a case study of a collaborative public sector design endeavor that includes planning for a recreational environment that is intended to serve disadvantaged teenagers with structures co-designed to foster safe, artistic expression.
Collaborative design strategies: Helping to change the practice of care
Kristin Hughes, Peter Scupelli, School of Design, Carnegie Mellon University, Pittsburgh, PA, USA
Using a design-lead approach we help physicians aid conversations around obesity prevention with children. A highly participatory, transparent approach informed the design of a product and service known as Fitwits MD. We describe the design process, dissemination, and evaluation linked to the making and development of this tool.
Acupuncture planning by design
François Jégou, Clara Delétraz, Giovanna Massoni, Jean-Baptiste Roussat, Marie Coirié, Brussels, Belgium / Paris, France
The article discusses the experiences of design schools engaging in co-creating sustainable living scenarios with the population of Paris-Saclay Campus in France and Liège Saint-Gilles neighbourhood in Belgium, and questions how design schools approaches may renew the ways local urban planning is usually conducted:
The DESIS Network is an international network of design schools and organizations focused on design for sustainability and social innovation, in which research labs based in cities around the word are developing parallel projects at the intersection of public services, social networks, and design.
New York – Milan – Malmö – London – Paris