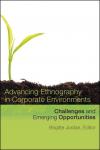 Advancing Ethnography in Corporate Environments: Challenges and Emerging Opportunities
Edited by Brigitte Jordan
Left Coast Press
November 2012, 224 pages
[Amazon link]
Abstract
In this innovative volume, twelve leading scholars from corporate research labs and independent consultancies tackle the most fundamental and contentious issues in corporate ethnography. Organized in pairs of chapters in which two experts consider different sides of an important topic, these provocative encounters go beyond stale rehearsals of method and theory to explore the entanglements that practitioners wrestle with on a daily basis. The discussions are situated within the broader universe of ethnographic method and theory, as well as grounded in the practical realities of using ethnography to solve problems in the business world. The book represents important advances in the field and is ideal for students and scholars as well as for corporate practitioners and decision makers.
Brigitte Jordan, PhD, an independent consulting corporate anthropologist, has held positions as Senior Research Scientist at the Institute for Research on Learning, Principal Scientist at Xerox PARC, and Professor of Anthropology and Adjunct Professor of Pediatrics and Human Development at Michigan State University. She is the recipient of numerous awards, including the Corporate Research Award in Excellence in Science and Technology from the Xerox Corporation and the Margaret Mead Award of the American Anthropological Association and the Society for Applied Anthropology. Dr. Jordan specializes in research methodologies and the design of lifescapes of the future. She is the author of almost one hundred scholarly, technical, and professional publications, some of which have been translated into Spanish, Portuguese, Italian, German and Japanese. Her website is www.lifescapes.org.