A Synchronicity, a book by Julian Bleecker and Nicholas Nova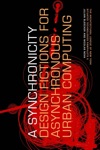 A synchronicity:
Design Fictions for Asynchronous Urban Computing
by
Julian Bleecker
and
Nicolas Nova
Available as a print-on-demand book from lulu.com. Click here to order.
Available as a free download here.
The Situated Technologies Pamphlets series, published by the Architectural League, explores the implications of ubiquitous computing for architecture and urbanism. How are our experience of the city and the choices we make in it affected by mobile communications, pervasive media, ambient informatics and other "situated" technologies? How will the ability to design increasingly responsive environments alter the way architects conceive of space? What do architects need to know about urban computing and what do technologists need to know about cities?
In the last five years, the urban computing field has featured an impressive emphasis on the so-called "real-time, database-enabled city" with its synchronized Internet of Things. In Situated Technologies Pamphlets 5, Julian Bleecker and Nicholas Nova argue to invert this common perspective and speculate on the existence of an "asynchronous city." Through a discussion of objects that blog, they forecast situated technologies based on weak signals that show the importance of time on human practices. They imagine the emergence of truly social technologies that through thoughtful provocation can invert and disrupt common perspective.
Situated Technologies Pamphlets will be published in nine issues over three years and will be edited by a rotating list of leading researchers and practitioners from architecture, art, philosophy of technology, comparative media studies, performance studies, and engineering.