Africa Calling: can mobile phones make a miracle?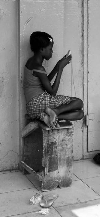 Africa Calling: Can Mobile Phones Make a Miracle?
is the title of a long article by
Jenny C. Aker
(Assistant Professor, The Fletcher School) and
Isaac M. Mbiti
(Assistant Professor, SMU), published in the March/April 2010 edition of the
Boston Review
.
Given how many Africans are seeking out and using mobile phones, and all they can do with them, enthusiasm about communications technology as a force for economic development and broader advances in human well-being is high: the iconic image of the mobile phone user in Africa is the female trader, surrounded by her goods while making calls to potential clients in the capital city. Peruse any article on mobile phones in Africa today and you can't help but notice the ambitious claims about impact. Mobile phones are a transformative technology that increases GDp and, quite simply, revolutionizes people's lives. Equally common are the slogans of mobile phone companies promising better days for those who use their products: "Together We Can Do More," "A Wonderful Life," "Making Life Better," and simply "Tudo bom" ("All is good").
Do these images, slogans, and sentiments truly reflect what mobile phones can do? Can mobile phones transform the lives of the world's poor?
Read article (pdf)