"Alone Together": An MIT Professor's new book urges us to unplug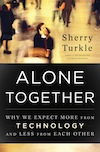 Sherry Turkle
, has been an ethnographer of our technological world for three decades, hosted all the while at one of its epicenters: MIT. A professor of the social studies of science and technology there, she also heads up its Initiative on Technology and Self.
In her new book Alone Together, she shares her ambivalence about the overuses of technology, which, she writes, "proposes itself as the architect of our intimacies." The book completes a trilogy of investigations into the ways humans interact with technology.
Fast Company spoke recently with Turkle about connecting, solitude, and how that compulsion to always have your BlackBerry on might actually be hurting your company's bottom line.