An update on the use of e-readers in Africa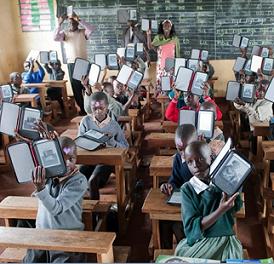 What does it take to introduce e-books and e-readers into communities in low income countries — and is this a good idea, asks Michael Trucano on EduTech, a World Bank blog on ICT in education.
"Judging by the increasing number of inquiries we receive here at the World Bank on this topic, we are not alone in asking such questions.

If you want help in trying to answer these and related queries based on evidence from pioneers in this area, you will most likely find yourself at some point in contact with the folks at the Worldreader NGO. Co-founded by one of the former senior executives at Amazon, Worldreader is working with its partners to "bring millions of books to underserved children and families in the developing world".

Jonathan Wareham, a professor at ESADE in Barcelona who serves on the Worldreader – Spanish Foundation Board and collaborates with the organization on various research activities into the use of e-readers and e-books, recently stopped by the World Bank to talk about what Worldreader is learning from its work in Africa.