Are the older generation getting tech-savvy?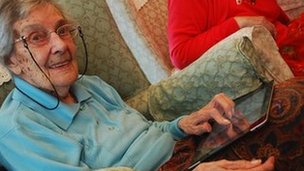 BBC News has published a 5 minute video feature on Cambridge University's Design Centre where they test how elderly people use technology.
Must-have modern gadgets are designed by young people with young people in mind – that is the view of Ian Hosking, who works at Cambridge University's Design Centre.

This can mean that elderly people, who have much to gain from modern technology, feel excluded.

Mr Hosking's mission is to improve the accessibility of modern, mass-produced devices like smartphones and tablets. To this end, he conducts experiments with volunteers.

The Design Lab conducts tests on individual products, but the general findings that Mr Hosking discusses here apply to digital communication devices across the market.
BBC News also posted a longer article on the same topic.