Artful making: what managers need to know about how artists work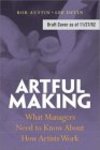 Artful Making offers the first proven, research-based framework for engineering ingenuity and innovation. This book is the result of a multi-year collaboration between Harvard Business School professor Robert Austin and leading theatre director and playwright Lee Devin.
Together, they demonstrate striking structural similarities between theatre artistry and production and today's business projects–and show how collaborative artists have mastered the art of delivering innovation "on cue," on immovable deadlines and budgets.
These methods are neither mysterious nor flaky: they are rigorous, precise, and–with this book's help–absolutely learnable and reproducible. They rely on cheap and rapid iteration rather than on intensive up-front planning, and with the help of today's enabling technologies, they can be applied in virtually any environment with knowledge-based outputs. Moreover, they provide an overarching framework for leveraging the full benefits of today's leading techniques for promoting flexibility and innovation, from agile development to real options.