Audio interview with Johannes Vandermeulen of Namahn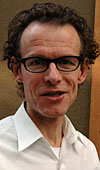 Joannes Vandermeulen
is founder and head of business development of the
Namahn
agency in Brussels, Belgium.
In this interview with IA Voice, Joannes talks about his ideas, the workflows in his agency and the user centered design process.
The IA Voice site, which is managed by Wolf H. Nöding, german language representative of the IAI, contains a wide range of interviews, including with Peter Morville, Jesse James Garrett, Peter Boersma, and Louis Rosenfeld. The site also features a four part series on faceted classification.
Listen to interview (mp3, 10.3 mb, 30 min.)
(via DdUX)