Behavioral modeling – Shaping cultural change and behavioral evolution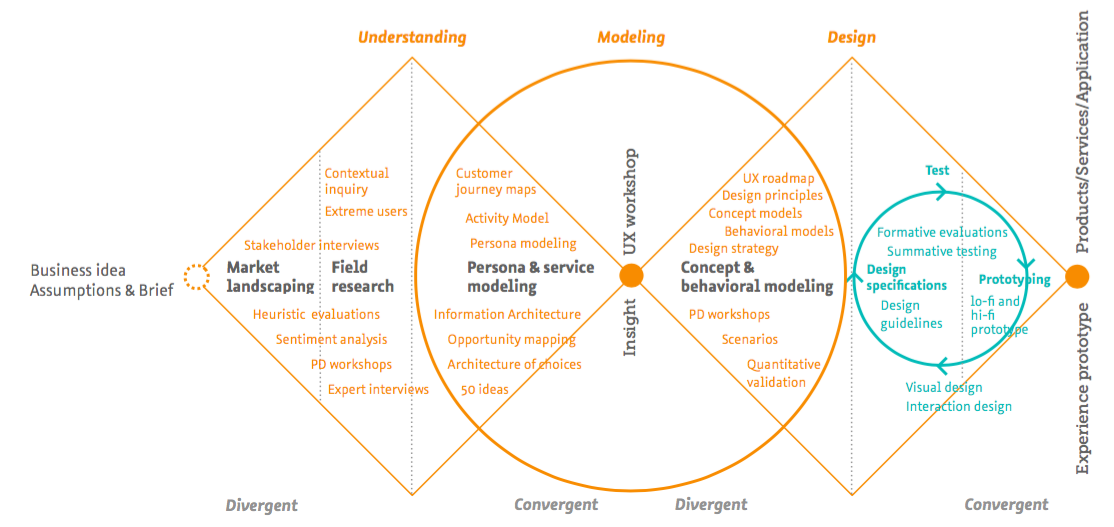 One of the things we do here at Experientia that really sets us apart from other UX agencies is behavioral modeling.
Our cognitive and behavioral models go beyond the standard customer journeys and personas (both useful tools, and often preliminary steps to behavioral modeling) to create frameworks that can be used to make people more aware of the decisions they make, and to nudge them in the direction of more sustainable decisions.
Behavioral modeling helps us to understand people's habits and decisions, so that designs and solutions can impact them in positive and lasting ways.
When do we use it?
We've successfully used behavioral modeling in many of our biggest projects, in sectors including finance (with clients like Fidelity, Intesa Sanpaolo and UniCredit Bank), healthcare (Intel, DesignSingapore Council), Sustainability (Sitra Finnish Innnovation Agency, Kortrijk Xpo, De-Ga and more) and automotive (Autumn, an EU-funded project). Whenever we're dealing with human behaviors and how they interact with products, services and systems (which, after all, is always), behavioral modeling is a uniquely-placed tool to help us understand how people behave and why, and how they can reframe and evolve their behaviors.
Why does it matter?
Well, it means that our solutions are based on a real-life understanding, and not on assumptions.
We observe people, explore their daily contexts, and map their interactions with services, touchpoints, challenges and solutions. From this, we build models that show the patterns and influences that impact their actions, as well as the conditions and contexts that could nudge people towards healthier, more sustainable behaviors.
The result?
The result for our clients is solutions that resonate with their clients and that support them in navigating the choices they have to make. Very often this leads to drastic increases in uptake, faster interactions, and far fewers errors or abandoned activities.
To find out more, download this short presentation on our behavioral modeling techniques, or get in touch with one of our partners to discuss a business challenge.