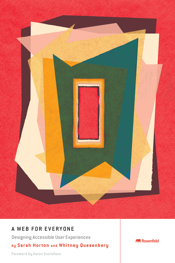 A Web for Everyone: Designing Accessible User Experiences
by Sarah Horton & Whitney Quesenbery
Rosenfeld Media, 2013
288 pages
In their new book, A Web for Everyone: Designing Accessible User Experiences, Sarah Horton and Whitney Quesenbery make a case for accessibility that begins and ends with people. "We believe that great design starts by thinking about how to make products work for everyone."
The book is a great resource for those trying to implement accessibility measures without making sacrifices that compromise design or innovation. In this excerpt, you'll meet the personas (illustrated by Tom Biby) that are referenced throughout the book.
Sarah Horton is a consultant for strategic planning for websites and web applications. She also does accessibility and usability reviews. Sarah started her career in interaction design in 1991 at the Yale Center for Advanced Instructional Media, creating award-winning interactive instructional software. She was an instructional technologist at Dartmouth College for 11 years before becoming director of web strategy and design. As director, she was responsible for planning and developing Dartmouth's digital environment, and she led a team of user-experience professionals responsible for web and media design, development, and production. More recently, Sarah was Web Strategy Project Lead at Harvard University, responsible for strategy and user experience design for the Harvard Web Publishing Initiative. Sarah is currently Director of Accessible User Experience and Design with The Paciello Group. Sarah is co-author with Patrick Lynch of Web Style Guide, now in its third edition and translated into at least eight languages. She also wrote Web Teaching Guide, which in 2000 won the American Association of Publishers award for best book in computer science. Her third book, Access by Design, combines the disciplines of universal design, accessibility, and usability into guidelines for designing websites that are universally usable.
Whitney Quesenbery is a user researcher, user experience practitioner, and usability expert with a passion for clear communication. She has been in the field for too many years, working with organizations from The Open University to the National Cancer Institute. She enjoys learning about people around the world and using those insights to design products where people matter. Before a little beige computer seduced her into software, usability, and interface design, she was a lighting designer in the theater. Like every other element of the production, lighting has to help tell the story. The scenery, lighting, costumes, direction and acting all have to work together tell the same story. She learned a lot about the craft of storytelling from watching hours of rehearsals. Whitney has served as president of the Usability Professionals' Association (UPA), on the boards of the Center for Plain Language and UXnet, and as a manager of the Society for Technical Communication (STC) Usability and User Experience Community. As a member of two U.S. government advisory committees, she is working to update accessibility requirements and to improve the usability and accessibility of voting systems for U.S. elections. Whitney is a frequent author and presenter in industry events and is a contributor to UXmatters.com. Her first publication on storytelling was a book chapter on "Storytelling and Narrative" in The Personas Lifecycle, by John Pruitt and Tamara Adlin. She's also proud that her chapter "Dimensions of Usability" in Content and Complexity turns up on so many course reading lists.