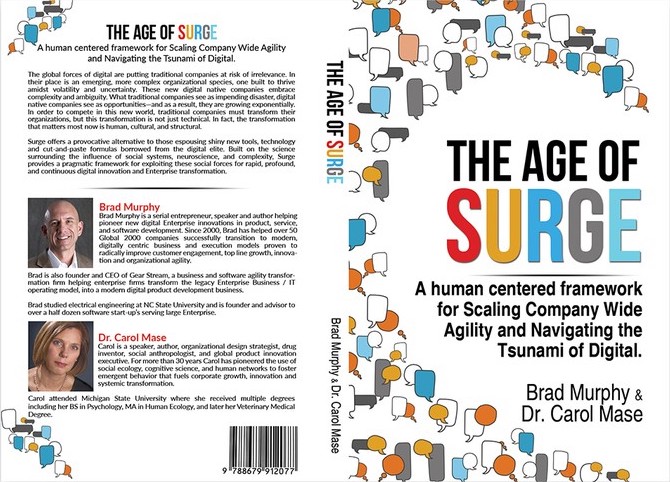 The Age of Surge: A Human Centered Framework for Scaling Company Wide Agility and Navigating the Tsunami of Digital
By Brad Murphy and Carol Mase
Reinvent Press
January 2018, 272 pages
> Q&A on the book
The global forces of digital are putting traditional companies at risk of irrelevance. In their place is an emerging, more complex organizational species, one built to thrive amidst volatility and uncertainty. These new digital native companies embrace complexity and ambiguity. What traditional companies see as impending disaster, digital native companies see as opportunities – and as a result, they are growing exponentially. In order to compete in this new world, traditional companies must transform their organizations, but this transformation is not just technical. In fact, the transformation that matters most now is human, cultural, and structural.
Surge offers a provocative alternative to those espousing shiny new tools, technology and cut-and-paste formulas borrowed from the digital elite. Built on the science surrounding the influence of social systems, neuroscience, and complexity, Surge provides a pragmatic framework for exploiting these social forces for rapid, profound, and continuous digital innovation and Enterprise transformation.
Brad Murphy is a serial entrepreneur, speaker and author helping pioneer new digital Enterprise innovations in product, service, and software development. Since 2000, he has helped over 50 Global 2000 companies successfully transition to modern, digitally centric business and execution models proven to radically improve customer engagement, top line growth, innovation and organizational agility. Murphy is also founder and CEO of Gear Stream, a business and software agility transformation firm helping enterprise firms transform the legacy Enterprise Business / IT operating model, into a modern digital product development business. He studied electrical engineering at NC State University and is founder and advisor to over a half dozen software start-up's serving large Enterprise.
Carol Mase is a speaker, author, biologist, drug inventor, social anthropologist, and global product innovation executive. For more than 30 years Carol has pioneered the use of social ecology, cognitive science, and human networks to foster emergent behavior that fuels corporate growth, innovation and systemic transformation. Mase attended Michigan State University where she received multiple degrees including her BS in Psychology, MA in Human Ecology, and later her Veterinary Medical Degree.