Book: Applying Anthropology in the Global Village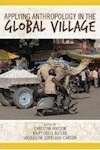 Applying Anthropology in the Global Village
Christina Wasson (Editor); Mary Odell Butler (Editor); Jacqueline Copeland-Carson (Editor)
288 pp. – Nov, 2011
Left Coast Press
Hardback (978-1-61132-085-5)
Paperback (978-1-61132-086-2)
[
Amazon link
]
Synopsis
The realities of the globalized world have revolutionized traditional concepts of culture, community, and identity—so how do applied social scientists use complicated, fluid new ideas such as translocality and ethnoscape to solve pressing human problems? In this book, leading scholar/practitioners survey the development of different subfields over at least two decades, then offer concrete case studies to show how they have incorporated and refined new concepts and methods. After an introduction synthesizing anthropological practice, key theoretical concepts, and ethnographic methods, chapters examine the arenas of public health, community development, finance, technology, transportation, gender, environment, immigration, aging, and child welfare. An innovative guide to joining dynamic theoretical concepts to on-the-ground problem solving, this book is also an excellent addition to graduate and undergraduate courses.
Table of Contents
Introduction, Christina Wasson, Mary Odell Butler, Jacqueline Copeland-Carson
1. Public Health in Global Localities: Managing Infectious Disease, Mary Odell Butler
2. Transportation and Infrastructure: Culture on the Move, Mari Clarke
3. Community Development in Globalizing Cities: Housing and Finance, Jacqueline Copeland-Carson
4. Sex Trafficking: Feminist Anthropological Practice, Susan Dewey
5. Climate Change and the Global Environment, Shirley J. Fiske
6. International Migration and Aging, Madelyn Iris
7. Neoliberalism and the Privatization of Social Services, Susan Racine Passmore
8. Internationalism and Systems Thinking in Community and Public Health, Eve C. Pinsker
9. Localizing the Global in Technology Design, Susan Squires and Christina Wasson
Conclusion: Globalization, Community Research, and the Politics of Science, Jean J. Schensul
Index
About the Authors
Ken Banks adds some further reflection to the matter, and thinks the book is a must-read "for anyone interested in how anthropology can be usefully applied in the modern world.