Book: "Authenticity" by Gilmore and Pine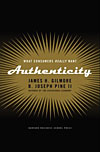 James Gilmore and Joe Pine, authors of the 1999 bestseller "
The Experience Economy
", have now published a new book "Authenticity: What Consumers Really Want".
Abstract
Contrived. Disingenuous. Phony. Inauthentic. Do your customers use any of these words to describe what you sell–or how you sell it? If so, welcome to the club. Inundated by fakes and sophisticated counterfeits, people increasingly see the world in terms of real or fake. They would rather buy something real from someone genuine rather than something fake from some phony. When deciding to buy, consumers judge an offering's (and a company's) authenticity as much as–if not more than–price, quality, and availability.

In "Authenticity," James H. Gilmore and B. Joseph Pine II argue that to trounce rivals companies must grasp, manage, and excel at rendering authenticity. Through examples from a wide array of industries as well as government, nonprofit, education, and religious sectors, the authors show how to manage customers' perception of authenticity by:

recognizing how businesses "fake it";
appealing to the five different genres of authenticity;
charting how to be "true to self" and what you say you are; and
crafting and implementing business strategies for rendering authenticity.

The first to explore what authenticity really means for businesses and how companies can approach it both thoughtfully and thoroughly, this book is a must-read for any organization seeking to fulfill consumers' intensifying demand for the real deal.
Review in Publishers weekly (copied from here)
This eye-opening but muddled volume tells companies to "remain true to self" or, at least, to appear genuine, arguing that "in a world increasingly filled with deliberately and sensationally staged experiences… consumers choose to buy or not buy based on how real they perceive an offering to be." Everything that forms a company's identity—from its name and practices to its product details—affects consumers' perceptions of its authenticity. Juggling philosophical concepts, in-depth case studies and ad slogans, Gilmore and Pine (The Experience Economy) run into trouble with a chapter called "Fake, Fake, It's All Fake," which eviscerates the entire idea of authenticity: "Despite claims of 'real' and 'authentic' in product packaging, nothing from businesses is really authentic. Everything is artificial, manmade, fake." The argument is unexpected and perhaps brilliant—yet rather confusing, since most of Authenticity argues that businesses should strive to not only appear authentic but to be so. The book's bullet points, charts and matrices add to the tangle, as the authors' early advice ("your business offerings must get real") becomes a demand for furrowed-brow soul-searching. Still, the prose is snappy and conversational, and the book is densely packed with insights and provocations, and may inspire some executives to consider how consumers see their company. (Nov.)
– Publisher's page | Amazon page
– Download table of contents and first chapter (pdf, 170 kb, 12 pages)