[Book] Changing Behaviours: On the Rise of the Psychological State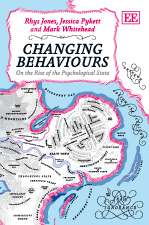 Changing Behaviours: On the Rise of the Psychological State
by Rhys Jones, Jessica Pykett and Mark Whitehead
Edward Elgar Publishers
2013, 240 pages
[Amazon link]
Abstract
Changing Behaviours charts the emergence of the behaviour change agenda in UK based public policy making since the late 1990s.
By tracing the influence of the behavioural sciences on Whitehall policy makers, the authors explore a new psychological orthodoxy in the practices of governing. Drawing on original empirical material, chapters examine the impact of behaviour change policies in the fields of health, personal finance and the environment. This topical and insightful book analyses how the nature of the human subject itself is re-imagined through behaviour change, and develops an analytical framework for evaluating the ethics, efficacy and potential empowerment of behaviour change.
This unique book will be of interest to advanced undergraduates, postgraduates and academics in a range of different disciplines. In particular, its inter-disciplinary focus on key themes in the social sciences – the state, citizenship, the meaning and scope of government – will make it essential reading for students of political science, sociology, anthropology, geography, policy studies and public administration. In addition, the book's focus on the practical use of psychological and behavioural insights by politicians and policy makers should lead to considerable interest in psychology and behavioural economics.
The authors
Rhys Jones, Professor of Human Geography, Institute of Geography and Earth Sciences, Aberystwyth University, UK
Jessica Pykett, Lecturer, School of Geography, Earth and Environmental Sciences, University of Birmingham, UK
Mark Whitehead, Professor of Human Geography, Institute of Geography and Earth Sciences, Aberystwyth University, UK
The Changing Behaviours project
The authors of the book have now began a Changing Behaviours research project that is exploring emerging strategies for changing human behaviours. The project is being funded as part of the Economic and Social Research Council's Transforming Social Science programme. The primary aim of thistheproject is to consider the ways in which the emerging insights of behavioural science (in particular behavioural psychology, behavioural economics, microeconomics, cognitive design, and neuroscience) are shaping the design of public policy. This project has been designed to provide the first large-scale, international comparative study of behaviour changing initiatives. In addition to studying the application of behaviour changing policies in different countries throughout the world, the team is also exploring the use of alternative, and perhaps, more neurologically empowering approaches to behaviour change (including mindfulness, connected conversations, and critical behavioural literacy). The project, which started in September 2013, will run until February 2015.
[The book was mentioned in this long piece by Evgeny Morozov for the MIT Technology Review]