Book: Design For Care – Innovating Healthcare Experience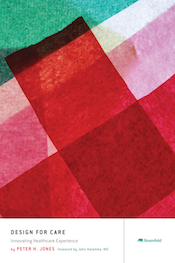 Design For Care – Innovating Healthcare Experience
Peter Jones
Rosenfeld Media, 2013
376 pages
The world of healthcare is constantly evolving, ever increasing in complexity, costs, and stakeholders, and presenting huge challenges to policy making, decision making and system design. In Design for Care, Peter Jones shows how service and information designers can work with practice professionals and patients/advocates to make a positive difference in healthcare.
More in particular, the book will:
Present a current presentation of compelling healthcare design and information issues, integrated by representative case studies, to help designers, managers, students and teachers better understand the field
Educate and stimulate this audience to innovate and design better services from a total systems perspective in current healthcare practice
Help this audience understand the complexities, emerging opportunities, and uncertainties as indicated from the collective experience of leading edge design and research thinkers
It's the first book of Rosenfeld Media focused on a specific industry—healthcare, of course. It's also something of a service design book and a design strategy book to boot. After all, as the design field becomes increasingly recognized as strategically important, we'll need to contextualize its value for a variety of wicked problems—ones that are often associated with particular industries.
Peter Jones is associate professor at Toronto's OCAD University, where he is a senior fellow of the Strategic Innovation Lab and teaches in the Strategic Foresight and Innovation MDes program.