Book: Designing Emotions in Online Travel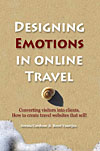 The new book
Designing Emotions in Online Travel
by
Soraia Cardoso
of
Sotopia Usability
and René Vaartjes, provides new insights on how to arouse positive emotions at travel websites by using specific graphic elements, colours and online functions to ultimately increase online bookings.
About the book (from press release)
Not only deficiencies in web usability but highly in emotional persuasion ability are impacting the end user satisfaction and bottom line costs for both travel companies as well as tourism destinations. In a world where capitalism is king we tend to look for meaningful sensorial experiences, things worth to remember rather than pursuing.

Developing a design toolkit to enable designers to design for emotion is the central issue of the book "Designing Emotions in Online Travel". The information gathered from online surveys and 200 in depth one-to-one interviews in "Designing Emotions in Online Travel" take us on a journey through the emotional stages of people while booking a holiday online.

These findings provide great insight on what people find important when searching for a holiday destination. It turns out that facts and figures are not enough. They want to get emotional; they want a journey through the senses. Tickling one's imagination through visuals, colours, and engaging functionalities is the key to designing for emotions. The secret is when and how in the booking process this should be done. This book promises to remind us the importance of the preliminaries; it's all about giving before taking.
Abstract
Emotions influence our well-being as well as our purchase decisions. From a design perspective, it is worthwhile to know more about how we can elicit emotions through design. We also need to know more about the way we can identify the relevant
emotional aspects and how we can evaluate the emotional influences of a particular design.

This book focuses on the design and functions of travel websites. How do they influence the emotions of the visitor? The central question of this book is:

How can graphical elements and online functions evoke positive emotions so that visitors to travel websites are encouraged to book online?

An emotion is a mental state that arises spontaneously rather than through conscious effort and is often accompanied by physiological changes. Expressing emotions does not depend on a person's culture. However, specific communication elements evoke different kinds of emotions in people from different cultures. An online travel a website only evokes any emotion if it is seen as relevant to a visitor's concern.

Through quantitative and qualitative research, this study proves that consumers judge the attractiveness of a product or service based on their own perception, feelings and emotions. Subjects of an online survey defined that the main emotions evoked during their visit to a travel website are: 'curious', 'inspired', 'desiring', 'enthusiastic', 'fascinated', 'attracted to', 'looking forward to', 'satisfied', 'relaxed' and 'stimulated'.

The analysis of photos collected during a qualitative research and the outcome of an expert review analysis of eight travel websites results in a set of recommendations on how to evoke specific positive emotions to improve travel websites and convert visitors into loyal customers.
About the authors
Soraia Cardoso is an international specialist in design, web development, and usability. She has a broad knowledge of employing usability and design methods to optimize websites, applications, and software products. It's her devotion to make them user-centered, task-oriented, enjoyable and usable! Soraia is founder of Sotopia Usability Consultancy which clients include major Dutch and International Organizations. Soraia holds a Master of Arts in media and information design.

René Vaartjes is specialised in design, design management, idea generation and concept development. His creative mind results in solutions for uncommon challenges in online media. His experience in marketing and communication includes the development of cross-media campaigns, community building, viral marketing and customer observation. René holds a degree in Design Management and Marketing.