Book: Digital Anthropology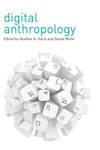 Digital Anthropology
Edited by Heather A. Horst, Daniel Miller
Berg Publishers, Oct 2012
328pp
Anthropology has two main tasks: to understand what it is to be human and to examine how humanity is manifested differently in the diversity of culture. These tasks have gained new impetus from the extraordinary rise of the digital. This book brings together several key anthropologists working with digital culture to demonstrate just how productive an anthropological approach to the digital has already become.
Through a range of case studies from Facebook to Second Life to Google Earth, Digital Anthropology explores how human and digital can be defined in relation to one another, from avatars and disability; cultural differences in how we use social networking sites or practise religion; the practical consequences of the digital for politics, museums, design, space and development to new online world and gaming communities. The book also explores the moral universe of the digital, from new anxieties to open-source ideals. Digital Anthropology reveals how only the intense scrutiny of ethnography can overturn assumptions about the impact of digital culture and reveal its profound consequences for everyday life.
Combining the clarity of a textbook with an engaging style which conveys a passion for these new frontiers of enquiry, this book is essential reading for students and scholars of anthropology, media studies, communication studies, cultural studies and sociology.
Authors/Editors
Heather A. Horst is a Vice Chancellor's Senior Research Fellow in the School of Media and Communication at RMIT University, Australia.
Daniel Miller is Professor of Material Culture at the Department of Anthropology, University College London, UK
Contributors
Tom Boellstorff, Heather Horst, Lane DeNicola, Faye Ginsburg, Stefana Broadbent, Danny Miller, John Postill, Jelena Karanovic, Bart Barendregt, Jo Tacchi, Adam Drazin, Haidy Geismar and Thomas Malaby