[Book] Doing Sensory Ethnography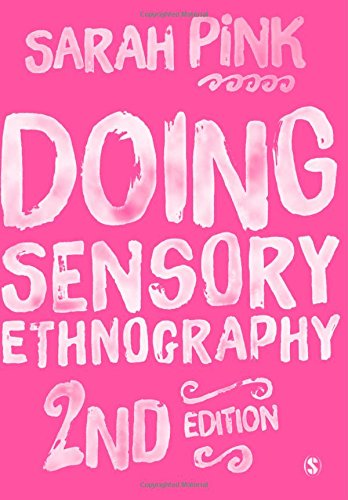 Doing Sensory Ethnography
by Sarah Pink
Sage Publications
Paperback, 232 pages
Second edition, February 2015
Between 2010 – 2014, a team of UK anthropologists, engineers and designers worked towards a deeper understanding of how energy and media consumption fit in to everyday practices and habits in home life.
To learn about energy and media use in everyday life, the team used a set of research methods – primarily video – they called sensory ethnography.
Sensory Ethnography is an innovative methodology developed for understanding digital technologies and energy use in the home. It goes beyond conventional research that depends on what people say in interviews to instead encounter people as they live out the sensory, tacit, mundane and sometimes barely noticed elements of everyday life.
7he team used a series of methods that build on Sarah Pink's earlier work around sensory ethnography, but also used new collaborative techniques that were developed specifically for the project.
The book: Drawing on an explosion of new, cutting edge research, Sarah Pink uses real world examples to bring this innovative area of study to life. She encourages us to challenge, revise and rethink core components of ethnography including interviews, participant observation and doing research in a digital world. The book provides an important framework for thinking about sensory ethnography stressing the numerous ways that smell, taste, touch and vision can be interconnected and interrelated within research. Bursting with practical advice on how to effectively conduct and share sensory ethnography this is an important, original book.