Book: ethnography and the corporate encounter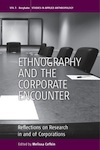 Ethnography and The Corporate Encounter
Reflections on Research in and of Corporations
Edited by Melissa Cefkin
Berghahn Books
2010, 262 pages
Businesses and other organizations are increasingly hiring anthropologists and other ethnographically-oriented social scientists as employees, consultants, and advisors. The nature of such work, as described in this volume, raises crucial questions about potential implications to disciplines of critical inquiry such as anthropology. In addressing these issues, the contributors explore how researchers encounter and engage sites of organizational practice in such roles as suppliers of consumer-insight for product design or marketing, or as advisors on work design or business and organizational strategies. The volume contributes to the emerging canon of corporate ethnography, appealing to practitioners who wish to advance their understanding of the practice of corporate ethnography and providing rich material to those interested in new applications of ethnographic work and the ongoing rethinking of the nature of ethnographic praxis.
Melissa Cefkin is a cultural anthropologist with experience in research, management, teaching, and consulting for business and government. Currently based at IBM Research in the area of services research, she earned her PhD from Rice University and remains dedicated to pursuing a critical understanding of the intersections of anthropological practice within business and organizational settings.
Related:
Last weekend, the Financial Times Magazine reports on one chapter of the book that describes how two Intel researchers, Dawn Nafus and Ken Anderson, observed the rituals of everyday life in Intel's corporate "jungle".
"Ironically, while Intel worshipped the idea of free-flowing innovation, the way employees communicated was subject to a rigid but unspoken set of cultural "rules". Post-it notes were deemed acceptable, and used to "push the boundaries". This, however, "delegitimized knowledge which did not come in the form of bold, sweeping statements required of 'out-of-the-box' performances," they write. PowerPoint and whiteboards were acceptable; communicating through dance was not. And "if your inspiration [for innovative ideas] happened to come from 'suspect' sources, such as religious texts, this can be smuggled in only through disguise."