[Book] Every Thing We Touch: A 24-Hour Inventory of Our Lives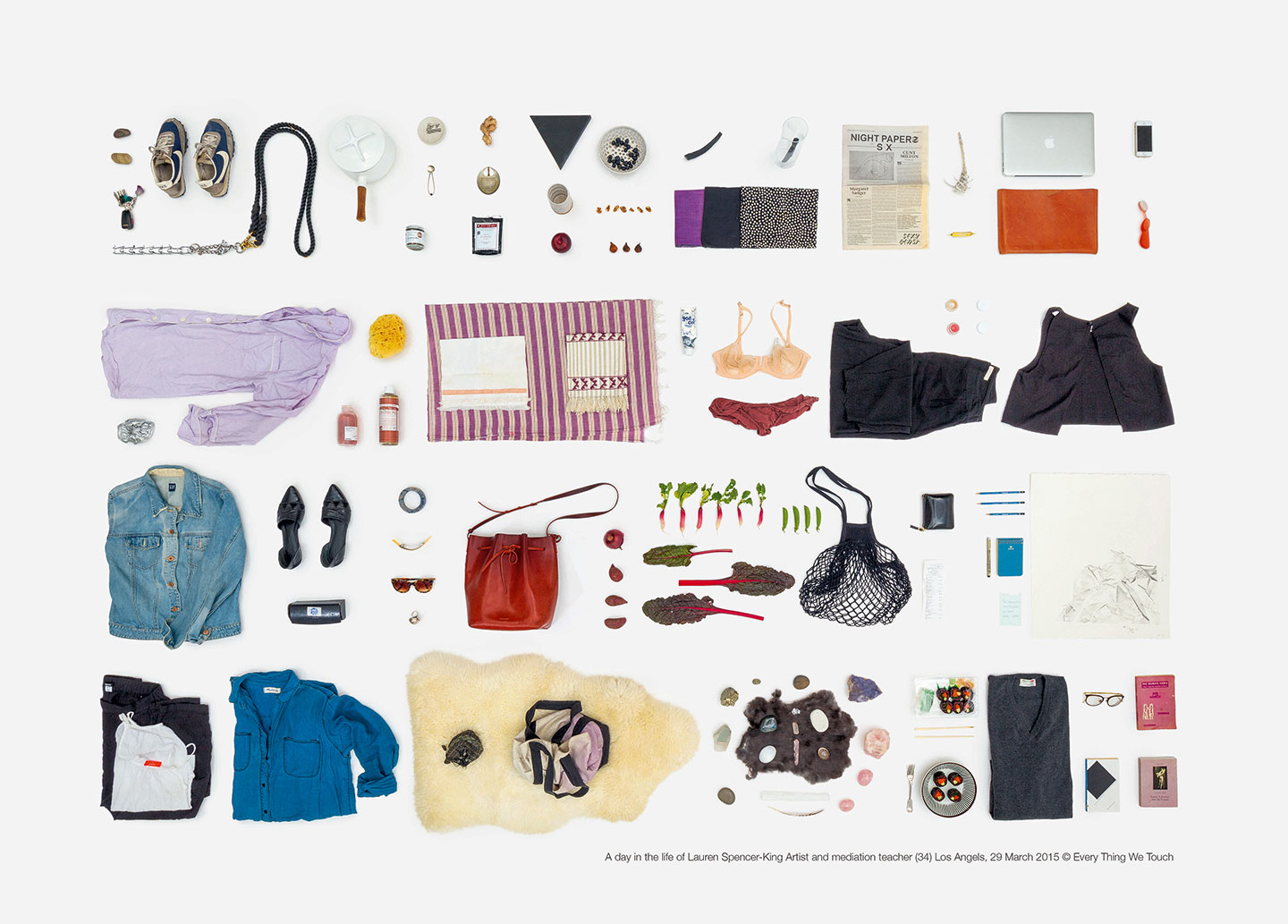 Every Thing We Touch: A 24-Hour Inventory of Our Lives
[Tumblr page]
by Paula Zuccotti
Viking Books, November 2015
256 pages
What's the first thing we touch when we wake up?
How do our favourite things reveal our hopes and fears?
Can objects tell the story of our lives?
Imagine how your day would look if you recorded everything that you touched.
From smartphone to soap, from spice to spoon… what if they were all brought together in one place? Would they tell a bigger story?
Driven by this idea, Paula Zuccotti travelled around the world to find people from an incredible array of ages, cultures, professions and backgrounds. She asked them to document every object they touched in 24 hours. Then she gathered those objects together and photographed them in a single shot.
From a toddler in Tokyo to a cowboy in Arizona, from a cleaner in London to a cloister nun in Madrid, Every Thing We Touch is their story told through the objects they own, consume, need, choose, treasure and can't let go.
Each image is mystery, a story, a work of art. Each is a moment in time: a life and a world reflected back at us.
The author
Paula Zuccotti is an ethnographer, industrial designer, trends forecaster and the founder of TheOverworld, a creative consultancy.
She was born in Argentina, and now lives in London after she was awarded a scholarship from the British Council to study for an MA in Design Strategy and Innovation. After graduating she worked at the design and innovation consultancy Seymourpowell for twelve years, where she was Director of Futures.
Paula travels the world researching people's everyday lives and uncovers insights that lead to the creation of successful products, brands and services. She speaks regularly at international events about research, design, media and the arts.
As an artist Paula works with photography and film. In 2015 she exhibited at the Duolun Museum of Modern Art, Shanghai.