[Book] Excited to announce the new book by John Thackara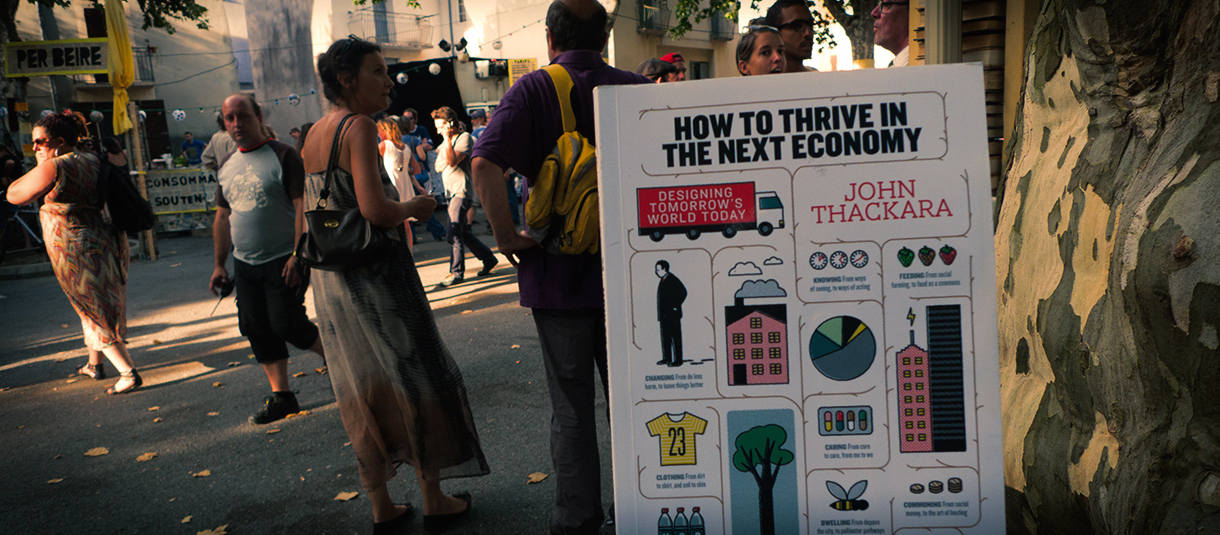 How to thrive in the next economy
by John Thackara
Thames & Hudson
August 2015, 192pp
Abstract
Drawing on a lifetime of travel in search of real-world alternatives that work, I describe how communities the world over are creating a replacement, leave-things-better economy from the ground up.
Each chapter is about creative ways to tackle timeless needs that matter: restoring the land, sharing water, making homes, journeying, growing food, designing clothes, journeying, and caring for each other. I write of soil restorers and river keepers; seed savers and de-pavers; cloud commuters and e-bike couriers; care farmers; food system curators; fibershed stewards; money designers and more – from Bali to Brazil, as well as Delhi, London, and California.
Throughout the book I celebrate the power of small actions to transform the bigger picture – especially in the ways projects are connecting together as social and ecological systems: food commons, social farming, fibersheds, cycle commerce, and care cooperatives. These arrangements add up to a new kind of social infrastructure for the next economy: local money, mutual aid, platforms for sharing, Commoning, and Earth Law.
I conclude the book with a celebration of the ways artists in different cultures are opening our minds to different ways of looking at – and acting in – the world. Seen through this new lens, the health of living systems is the ultimate measure of wealth, and work is a natural way to thrive, not just survive.
Read together, these examples add up to a joyful new story about what an economy is actually for. In place of an obsession with stuff, money, and endless growth, the book describes social practices that do more with less, and cherish all-of-life, not just human life. Growth, in this new economy, means soils, biodiversity and watersheds getting healthier, and communities more resilient. Its core values are stewardship and health, in place of extraction and decay.
The author
John Thackara is a writer and event producer who has spent a lifetime searching for live examples of what a sustainable future can be like. He writes about these stories at his blog, Doors of Perception, and organizes festivals that bring the project leaders he has met together.
Described by Business Week as "one of the great voices on sustainability", John Thackara's previous books include the best-selling In the Bubble: Designing in a Complex World. Along the way, John has been a magazine editor; a publisher; Director of Research at the Royal College of Art, where he is now a Senior Fellow; and Director of the Netherlands Design Institute. He has curated two national biennials – Designs Of The Time in the UK, and City Eco Lab in France – and nine Doors of Perception conferences in Amsterdam, and India; the Economic Times of India praised these events for their "brilliant insights into the internet and sustainability".
In 2013, John launched a workshop format called Xskool that helps diverse groups develop the design agenda for their bioregion.