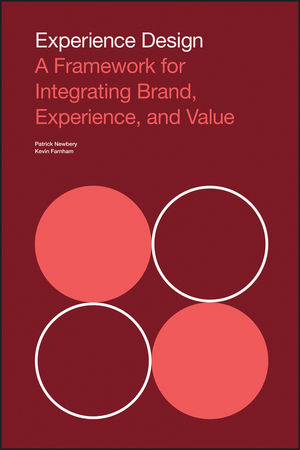 Experience Design: A Framework for Integrating Brand, Experience, and Value
Patrick Newbery, Kevin Farnham
240 pages
October 2013
Wiley
[Amazon link]
Description
Businesses thrive when they can engage customers. And, while many companies understand that design is a powerful tool for engagement, they do not have the vocabulary, tools, and processes that are required to enable design to make a difference. Experience Design bridges the gap between business and design, explaining how the quality of customer experience is the key to unlocking greater engagement and higher customer lifetime value. The book teaches businesses how to think about design as a process, and how this process can be used to create a better quality of experience across the entire customer journey.
Experience Design also serves as a reference tool for both designers and business leaders to help teams collaborate more effectively and to help keep focus on the quality of the experiences that are put in front of customers.
Authors
Patrick Newbery and Kevin Farnham are the Chief Strategy Officer and CEO of Method respectively, an experience design company that solves business challenges through design to create integrated brand, product, and service experiences.