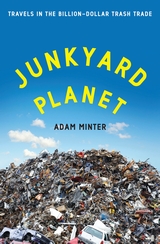 Junkyard Planet: Travels in the Billion-Dollar Trash Trade
by Adam Minter
Bloomsbury Publishing
2013, 304 pages
[Amazon link – video]
Abstract
When you drop your Diet Coke can or yesterday's newspaper in the recycling bin, where does it go? Probably halfway around the world, to people and places that clean up what you don't want and turn it into something you can't wait to buy. In Junkyard Planet, Adam Minter — veteran journalist and son of an American junkyard owner — travels deeply into a vast, often hidden, multibillion-dollar industry that's transforming our economy and environment.

Minter takes us from back-alley Chinese computer recycling operations to high-tech facilities capable of processing a jumbo jet's worth of recyclable trash every day. Along the way, we meet an unforgettable cast of characters who've figured out how to build fortunes from what we throw away: Leonard Fritz, a young boy "grubbing" in Detroit's city dumps in the 1930s; Johnson Zeng, a former plastics engineer roaming America in search of scrap; and Homer Lai, an unassuming barber turned scrap titan in Qingyuan, China. Junkyard Planet reveals how "going green" usually means making money—and why that's often the most sustainable choice, even when the recycling methods aren't pretty.

With unmatched access to and insight on the junk trade, and the explanatory gifts and an eye for detail worthy of a John McPhee or William Langewiesche, Minter traces the export of America's recyclables and the massive profits that China and other rising nations earn from it. What emerges is an engaging, colorful, and sometimes troubling tale of consumption, innovation, and the ascent of a developing world that recognizes value where Americans don't. Junkyard Planet reveals that we might need to learn a smarter way to take out the trash.
Reviews
"Having made the reasonable observation that consumption causes waste even more surely than it causes recycling, Mr. Minter's pragmatism reasserts itself. "If the goal is a realistic sustainable future," he writes, "then it's necessary to take a look at what we can do to lengthen the lives of the products we're going to buy anyway." He cites several products that could be made more easily reusable or recyclable. Apple's MacBook Air, for example, is so meticulously compressed that taking it apart and sorting out its component raw materials is bound to be dauntingly inefficient. Consumers should, Mr. Minter says, object to this kind of planned obsolescence."
Erica Grieder, Wall Street Journal – Dec 20, 2013

"By 2017, according to the Solving the E-Waste Problem (Step) initiative, a UN-supported project, each person on the planet will discard a third more electronic waste than in 2012, a grand total by then of 64.4m tonnes. Much of it will be shipped from the affluent world to developing countries for cheap reprocessing, a pattern of trade that Step defines as a problem. Adam Minter, a journalist and son of a US scrapyard entrepreneur, would disagree. Minter does not see the global scrap trade as a morality tale of villain and victim, but a vibrant and eco-friendly business, a core component of the world economy."
Isabel Hilton, The Guardian – 18 January 2014

"As Junkyard Planet shows, the commercial recycling industry does put others' trash to the most productive use possible. But recycling is no "get out of jail free card" for those who, as Minter puts it, find consuming "more fun than conserving"."
Sarah Mishkin, Financial Times – January 3, 2014