Book: Legible Practices by Helsinki Design Lab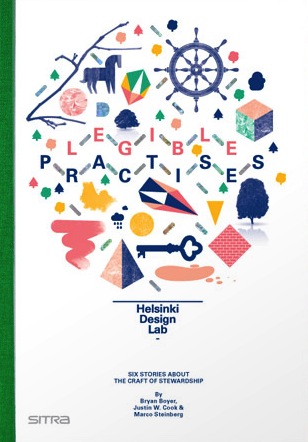 The social innovation book Legible Practices aims at codifying the practises of stewardship, as exhibited by innovators who are consciously rethinking institutions to better meet the challenges of today. It is the last book by Helsinki Design Lab, the recently closed strategic design lab of Sitra, the Finnish innovation fund.
"Stewardship is the art of aligning decisions with impact when many minds are involved in making a plan, and many hands in enacting it.

This notion comes to life through the stories of six projects on three continent, each an example of carefully rewiring institutions to better meet today's challenges.

By zooming in on the details, a handful of practises emerge that will help you convert ideas into action. Each story is shared as a brief narrative which is then broken down into a network of interlinking practises.
In writing Legible Practises, the authors Bryan Boyer, Justin W. Cook and Marco Steinberg – hope to spark a conversation about the deep craft of social innovation as a reminder that, even when dreaming big, the details still matter."
The case studies featured in the book:
Constituciòn (Chile): Redesign the city in 90 days through a co-creation process aimed at deliverying more resilient infrastructure and an urban form that provides greater social equity.
Brownsville Partnership (USA): Create a safer, stronger and more self-reliant community in Brownsville by working collaboratively with community, non-profit organisations, and public agencies to build a portfolio of complimentary services.
Creative Councils (UK): Support innovators in local government across England and Wales to develop and implement radical innovations addressing a long-term challenge that matters in their area.
Consumer Financial Protection Bureau (USA): Designing a brand identity, engagement strategy and discrete consumer-facing educational experiences for the nascent Consumer Financial Protection Bureau.
Branchekode (DK): Transform a Danish government service responsible for generating classification categories needed to register a new business.
Gov.uk (UK): Transform the quality of the UK's government digital services, making them "simpler, clearer, faster", starting with a single website for the whole of government.
You can order a printed copy or download a free pdf.