Book reviews of The Caryatids by Bruce Sterling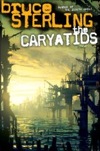 Bruce Sterling's new science fiction novel
The Caryatids
is out and is collecting its first reviews. Here are the ones I found so far:
Cory Doctorow – Boing Boing
"Bruce Sterling's The Caryatids, my pick for best book of 2009, a novel of clear-eyed hope for the future."
"Bruce Sterling has been one of the most important and challenging writers in science fiction since 1977 — and 32 years later, his books are progressively better, smarter and more important. Run, don't walk."
Thomas M. Wagner – SF Reviews
"The Caryatids is one of those books that doesn't so much tickle your funnybone as take a dentist's drill to it. Which means half of you are likely to love it while the other half will find it impossibly off-putting. I'm guessing Bruce wouldn't have it any other way."
Nisi Shawl – Seattle Times
"It's a tribute to the ability we all have to re-envision our own pasts and thus change the looming future."
John Clute – Sci Fi Wire
"I cannot think Sterling conceives that the raree-show convolutions of The Caryatids amount to a portrait of a world being saved; I think Sterling in this novel is telling us that the world, like his novel, is a shambles; and that we are kidding ourselves if we think an entablature of dancing clones could possibly model anything but chaos to come. I think he has created The Caryatids as a sandbox for his readers to play in, because he no longer has the heart to glory in another round of pulpit talk about winning the game of the future."
[Make sure to read the comments too.]
Matthew Bey – American Statesman
"Sterling has grown so good at being a visionary that his fiction has suffered. As a repository of futurist concepts, "The Caryatids" is required reading. As literature, it's adequate."
Read also this interview of Bruce Sterling (by Futurismic's Paul Raven) about the book, Viridian and the death of print.