[Book] The Moment of Clarity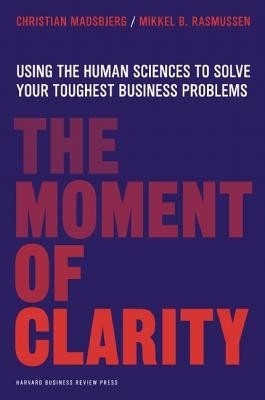 The Moment of Clarity: Using the Human Sciences to Solve Your Toughest Business Problems
by Christian Madsbjerg, Mikkel Rasmussen
Harvard Business Review Press
2014, 224 pages
Traditional problem-solving methods taught in business schools serve us well for some of the everyday challenges of business, but they tend to be ineffective with problems involving a high degree of uncertainty. Why? Because, more often than not, these tools are based on a flawed model of human behavior. And that flawed model is the invisible scaffolding that supports our surveys, our focus groups, our R&D, and much of our long-term strategic planning.
In The Moment of Clarity, Christian Madsbjerg and Mikkel Rasmussen examine the business world's assumptions about human behavior and show how these assumptions can lead businesses off track. But the authors chart a way forward. Using theories and tools from the human sciences—anthropology, sociology, philosophy, and psychology—The Moment of Clarity introduces a practical framework called sensemaking. Sensemaking's nonlinear problem-solving approach gives executives a better way to understand business challenges involving shifts in human behavior.
This new methodology, a fundamentally different way to think about strategy, is already taking off in Fortune 100 companies around the world. Through compelling case studies and their direct experience with LEGO, Samsung, Adidas, Coloplast, and Intel, Madsbjerg and Rasmussen will show you how to solve problems as diverse as setting company direction, driving growth, improving sales models, understanding the real culture of your organization, and finding your way in new markets.
Over and over again, executives say the same thing after engaging in a process of sensemaking: "Now I see it . . ." This experience—the moment of clarity—has the potential to drive the entire strategic future of your company. Isn't it time you and your firm started getting people right?
Christian Madsbjerg is one of the founding partners of ReD Associates, an innovation and strategy consultancy. Madsbjerg advises the executive suite of many Fortune 300 companies on top-level strategic issues, integrating sophisticated techniques traditionally used in the human sciences into each company's problem-solving processes. His work has had a significant impact in the market for each of his clients, and he is known for debunking more traditional market research practices.
Mikkel B. Rasmussen, also a founding partner of ReD Associates, is an expert in innovation and business creativity. As the director of ReD Associates Europe, he works closely with the top management of some of Europe's most forward-looking companies, including Adidas, LEGO, and Novo Nordisk.
See also:
– TEDx talk by Christian Madsbjerg (Oct 25, 2013)
– Book review, Financial Times (quite critical, towards the end)