Book: The Transition Companion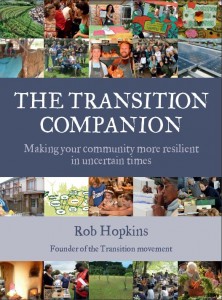 The Transition Companion: making your community more resilient in uncertain times
by Rob Hopkins
Chelsea Green Pub Co, November 2011
320 pages
Abstract
In 2008, the bestselling The Transition Handbook suggested a model for a community-led response to peak oil and climate change. Since then, the Transition idea has gone viral across the globe, from universities and London neighbourhoods to Italian villages and Brazilian favelas. There are now hundreds of Transition towns and Transition initiatives around the world. In contrast to the ever-worsening stream of information about climate change, the economy and resource depletion, the Transition movement focuses on solutions, on community-scale projects and on positive results.

The Transition Companion picks up the story today, describing one of the most fascinating experiments now under way in the world. It answers the question 'What is Transition?' and shows how communities are working for a future where local enterprises are valued and nurtured; where lower energy use is seen as a benefit; and where cooperation, creativity and the building of resilience are the cornerstones of a new economy.

In the first part of the book author and Transition movement co-founder Rob Hopkins discusses where we are now in terms of resilience to the problems of rising oil prices, climate change and economic uncertainty. He presents a vision of how the future might look if we succeed in addressing these issues. Rob Hopkins then looks in detail at the process a community in transition goes through, drawing on the experience of those who have already embarked on this journey. These examples show how much can be achieved when people harness energy and imagination to create projects that will make their communities more resilient. The Transition Companion combines practical advice – the tools needed to start and maintain a Transition initiative – with numerous inspiring stories from local groups worldwide.
"One of the many virtues of this awesome and joysome book is that the word "strategic" does not appear until page 272; a section on "policies" has to wait until page 281. It's not that the book is hostile to high altitude thinking; on the contrary, its pages are scattered with philosophical asides on everything from Buddhist thinking and backcasting, to time banking and thermodynamics. But the rational and the abstract are given their proper, modest, place.

The book is filled with incredibly handy short texts about issues that confuse many of us. What, for example, are we to think of Community Supported Agriculture? Is it enough to sign up to a vegetable box scheme – and find the resulting service inflexible and irritating? Maybe yes and maybe no, writes Hopkins. For him, our relationship with the people who grow our food should be shaped by four key principles (page 268): "shared risk; transparency; community benefits; and building resilience". Within that framework, the details are down to us."