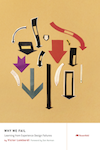 Why We Fail: Learning from Experience Design Failures
By Victor Lombardi
248 pages
Rosenfeld Media
Why did Twitter succeed while Pownce plotzed? Why has "to Plaxo" become a verb? And Zune: great product, but are you using one right now?
More and more, products succeed because not because they provide better designs or functionality, but because their overall experiences are superior to their competitors'. Victor Lombardi's new book, Why We Fail: Learning from Experience Design Failures is your field guide to failure. It's packed with case studies and lessons that will help you, as Don Norman suggests in his foreword, "embrace failure to learn from failure" and "learn from failure to avoid failure".
Just as pilots and doctors improve by studying crash reports and postmortems, experience designers can improve by learning how customer experience failures cause products to fail in the marketplace. Rather than proselytizing a particular approach to design, Why We Fail holistically explores what teams actually built, why the products failed, and how we can learn from the past to avoid failure ourselves.
Why We Fail is available from Rosenfeld Media in paperback and three DRM-free digital formats (PDF, MOBI, and ePUB). It's also available from Amazon and O'Reilly.