Bringing sharing to Korea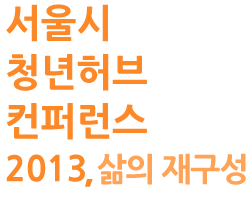 Richard Heinberg, author of The End of Growth, gave the keynote address at the 'Seoul Youth Hub Conference 2013, Reshaping the Way We Live', held in Seoul, Korea from 6 to 8 November 2013.
The conference was co-hosted with 8 youth-led organizations working for transforming our lives into more sustainable way in various sectors.
The Seoul Youth Hub is a project of the Seoul Metropolitan Government, and its mandate is to help young people "design a future society" by providing a place where they can share and resolve their problems, experiment with a sharing economy, and "discuss specific policies regarding various agendas such as work-labor, housing, life safety net, business creation, youth politics," and more. The Hub is also intended as a model and a networking center for similar projects throughout Asia.
Richard was quite impressed about it all, and wrote a report on his experience on Shareable.
Very funny was his meeting with the Mayor of Seoul:
"On the evening of the first day of the conference I met Mayor Park at his offices in City Hall, a twisty new steel-and-glass structure whose ground floor is devoted to citizen-led social innovation projects.

Copies of The End of Growth were on the mayor's meeting room table. Using an interpreter, we got right to it: He had clearly read the book and asked intelligent questions about it. What would I recommend that he and the City of Seoul do to prepare for the end of economic growth? It was a stunning question, given the circumstances, and he appeared eager to consider whatever suggestions I might offer. I started rattling off a laundry list of ideas — supporting farmers' markets, community gardens, and other staples of a local food system; discouraging cars while encouraging bicycling and public transport; raising energy building standards to the Passive House level; staging more cultural events to increase the happiness quotient among citizens. When I finished, he recited examples of how he and the city have already begun doing nearly every one of these things. He was saying, in effect, "Check, check, check. Come on, what else have you got? Please tell me, and I'll see if we can do it!" I suggested he find a way for the city to help bring Transition to Seoul. (There are currently two official Transition Initiatives in Japan, none in Korea.) He promised to do just that."