Bruce Nussbaum: it's not technology, it's sociology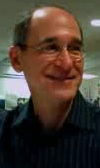 David Armano
of Critical Mass catches Business Week's Bruce Nussbaum for a half hour interview on design and innovation.
In the interview Bruce talks about the One Laptop Per Child, the difference between design and design thinking, the changing concept of privacy, and much more.
David Armano is vice president of experience design with Critical Mass, a professional services firm.