Half-day event on service design innovation in Turin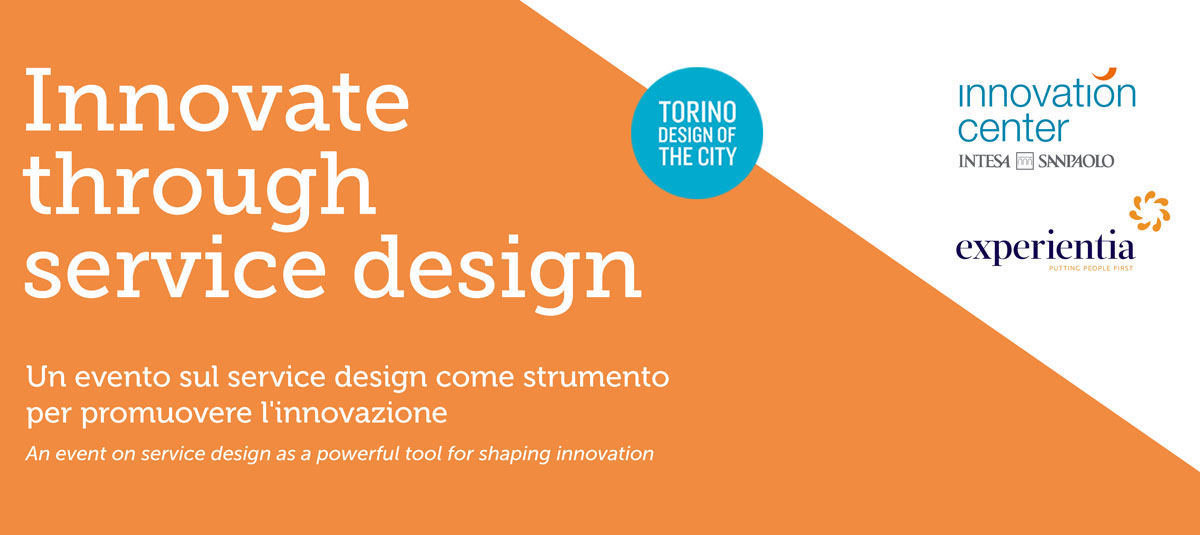 (This page will be regularly updated to reflect minor programme changes)
To Innovate through Service Design – Conference for Torino Design of the City
From 10 to 16 October, the City of Turin will host Torino Design of the City. This week of events, meetings, workshops, exhibitions and guided tours about design will take place in strategic city locations that are experiencing urban regeneration.
As part of this design week, Experientia and Intesa Sanpaolo bank are hosting a half-day event on Friday 13 October on how companies can successfully use service design as a point of differentiation and innovation.
To Innovate through Service Design is a half-day event that invites people from all industries to join us in exploring the widespread impact that service design is having on how companies do business and drive product and service innovation.
Today's service design is relevant no matter your industry, and has gone beyond its roots in web and app development to become a powerful tool for shaping how business and customers interact with each other. Our speakers include people coming from the consumer goods, finance, construction and business technology sectors. The conference will explore service design as a tool for companies to innovate products, craft new customer experiences, and reinvent the way that they bring value to their customers.
Our Italian and international guests – Gianpaolo Barozzi (CISCO), Stefano Carmi (Autogrill), Lara Ermacora (IBM), Benjamin Huneau (Tarkett), Elisa Maero (Intesa Sanpaolo), and Francesca Tamma (Swiss Re) – will discuss how service design is influencing their industries and present case studies of how they are successfully using service design to drive innovation in their companies.
This will be followed by a round table on the theme of cultural and digital transformation and the challenges of implementation.
The event will be moderated by Fabio Salierno (head of the Experience Design Lab at Intesa Sanpaolo) and Mark Vanderbeeken (CEO of international service design consultancy Experientia).
Friday 13 October, 14:00 – 17:00
Grattacielo Intesa Sanpaolo – Corso Inghilterra 3 – Torino
The event will take place in English.
Access is free until seats are exhausted. RSVP (required): [email protected].
PROGRAMME
14:00: Introduction and welcome
14:10: Presentation of service design setup at Intesa Sanpaolo by the moderators
14:20: Introduction of the speakers and the audience
14:30: Presentation by guest speakers
15:45: Coffee break
16:00: Round table focused on challenges, cultural change, and implementation.
17:00: End
SPEAKERS
Gianpaolo Barozzi (LinkedIn)
Senior HR Director, CISCO
Gianpaolo Barozzi is a Sr. Director in Cisco HR, leading the Digitalization Office in the newly formed Leadership & Team Intelligence organization. He leads the design and development of innovative workforce experiences and solutions in multiple HR areas at Cisco. His passion is re-defining the future of work in corporations – how talent is identified, leveraged, allocated and engaged, and how work is organized, measured and rewarded – and its implication on people, HR and ultimately the society.
Stefano Carmi (LinkedIn)
Group Design and Architecture Director, Autogrill
Stefano Carmi is Autogrill's Group Design & Architecture Director. In his position he defines the design selection worldwide, oversees our key and flagship projects and addresses standard's guidelines and design innovation. He lived in New York for several years, then Tokyo and Venice directing projects and teams in Restaurant, Interior & Retail Design and Global Project Management. With Giorgio Armani he oversaw the retail development of the group in Japan, China and Asia Pacific. He was the Director of Retail Design in Gruppo Coin and Benetton. For over ten years he guided Marithé & François Girbaud in their global retail expansion, designing new store concepts and environments. As a consultant, in the past he has also worked for Calvin Klein, National Geographic, Sears Roebuck, Ermenegildo Zegna, Dolce & Gabbana, Marlboro Classics, Gas Jeans, Pomellato and Furla. His projects have been published in The New York Times, Interiors, Domus, Modo, Capital, Panorama, L'Espresso, Uomo Vogue, La Repubblica and Il Corriere della Sera.
Lara Ermacora (LinkedIn)
Customer Engagement & Design Practice Lead, IBM
Lara Ermacora has more than ten years of experience in the digital field, from being a graphic designer in 2006 to leading the UX & Social Analytics team in IBM Interactive Italy and becoming professor of two university courses about digital strategy and market research. Since 2008 she has been focused on social business and digital transformation (marketing/Sales/Service) advisory both in B2B and B2C, through the redesign of business models understanding the underneath clients path and needs. She has been working with a wide range of customers in different industries, such as Retail and Consumer Goods (Moncler, Bulgari, Autogrill, Ferrero, …) Banking & Insurance (Generali Group, Veneto Banca, Allianz, …), Information Technology (IBM, Oracle, …). She is now very focused on project management activities and business development mainly in the marketing and communication field, working with top management functions of big Italian and international enterprises. She is now Customer Engagement & Design Practice Lead, Italy at IBM iX.
Benjamin Huneau (LinkedIn)
Customer Experience Transformation Director, Tarkett
Benjamin Huneau has been working with Tarkett since 2015 to transform this global leader in flooring products manufacturing, into a service-oriented, customer-centric company. Prior to Tarkett, he alternated operational and consulting positions, working on Customer Experience topics for multiple groups such as Accor, Louis Vuitton, Nespresso, HSBC, SFR or Transdev. Benjamin holds both business and engineering degrees from ESSEC and Supaero.
Elisa Maero (LinkedIn)
Digital Factory Coordinator, Intesa Sanpaolo
Elisa Maero is a member of the Digital Factory coordinator team at Intesa Sanpaolo Group Services. The Digital Factory aims to simplify, review and re-design some of the main bank processes, through a "zero based" approach. Service design is considered one of the core drivers in this approach, where people work to explore, imagine and design innovative solutions for colleagues and for customers.
Before joining the Digital Factory, Elisa acquired various other experiences at Intesa Sanpaolo, mainly as a Marketing, Loyalty and Communication Expert. Projects she managed included ticket issuance at EXPO 2015, intranet communication at the Innovation Center, and the development of new banking products (e.g. new credit cards).
Elisa is an economist by background and has a masters in Ebusiness at the Institute Boella in Turin.
Favorite Quote: "There's a way to do it better – find it", Thomas A. Edison
Francesca Tamma (LinkedIn)
Behavioural Research, Consultant & VP, Swiss Re
Francesca Tamma is a Behavioral Research Consultant (Vice President) at Swiss Re. She is part or the 10-person strong Behavioural Research Unit, where she leads the efforts in non-life insurance, working on client projects and on internal research. Some of the topics she focusses on include: how to design customer journeys and products together with Swiss Re's clients, how to decrease noise and bias in underwriting judgment, how to use the information recorded by in-vehicle telematics and smart home sensors to increase safe behaviors.
Previous to joining Swiss Re in 2016, she worked in London for the UK Behavioural Insights Team where she gained extensive expertise in applying behavioural economics to public sector projects.
She is an economist by background, having completed in 2014 an MSc Economics with merit at the LSE, and having graduated in 2012 with a MSc Hons Economics and Geography with distinction from the University of Edinburgh.