Danah Boyd: smartest "tech" academic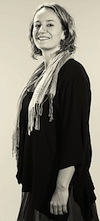 The smartest "tech" academic according to Fortune Magazine ("The smartest people in tech") is
Danah Boyd
, Social Media Researcher, Microsoft Research.
"She is the reigning expert on how young people use the Internet, and she's writing a book on the subject. Boyd's research is the real deal, a potent blend of theory and ethnographic data. And she has real tech street cred too, courtesy of a degree in computer science from Brown."
Other design researchers featured on the list are two people who got the designation "designer runner-up": Jan Chipchase, Executive Creative Director Of Global Insights, Frog Design, and Indrani Medhi, Associate Researcher, Technology For Emerging Markets Group, Microsoft Research India.
Congratulations to all.