Dark Matter and Trojan Horses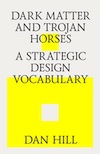 "Dark Matter and Trojan Horses – A Strategic Design Vocabulary" is a short e-book by designer and urbanist Dan Hill in which he argues that in an age of wicked problems, conventional solutions are failing, and a new culture of decision-making is called for.
"Strategic design is about applying the principles of traditional design to "big picture" systemic challenges such as healthcare, education and climate change. It redefines how problems are approached and aims to deliver more resilient solutions.

In this short book, Dan Hill outlines a new vocabulary of design, one that needs to be smuggled into the upper echelons of power. He asserts that, increasingly, effective design means engaging with the messy politics – the "dark matter" – taking place above the designer's head. And that may mean redesigning the organisation that hires you."
The book is one of a series published by Strelka Press, a Russia based publishing house long critical essays on architecture, design and urbanism, published initially as digital downloads, Kindle Singles or ebooks.
One of the authors, Alexandra Lange, interviewed the editor of the press Justin McGuirk, who is also design critic for the Guardian. You can read the interview on Design Observer.