Eisermann leaves Design Council as it reviews its strategy [Design Week]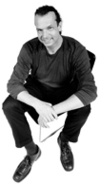 The British design magazine
Design Week
reports today that Richard Eisermann, director of design and innovation at the UK
Design Council
, has left the organisation prematurely to co-found the start-up consultancy Prospect, after two and a half years in the role.
He will not be immediately replaced in the short term, because the Design Council is in the midst of an internal review to look at how best it manages its 'strategic design input'.
The magazine further states that Eisermann has left to launch Prospect (permanent address as of April 2006), a 'strategically-driven' group with Anja Klüver. Its current clients include Nokia and a company from the travel services industry. The consultancy will be design-led and collaborations with designers are anticipated.
*****
Eisermann (see my recent interview with him) was in Torino one month ago to conduct a design and innovation workshop at the invitation of Torino Internazionale, the strategic agency for the city of Turin and the region of Piedmont, and Experientia, the experience design consultancy.
During the workshop, about thirty local leaders in charge of political entities, academic institutions, industry associations, businesses and design-related organisations brainstormed on the challenges of translating user-centred design approaches to new strategies for regional innovation and on the opportunities provided by Torino's designation as World Design Capital in 2008.