Essay Collection: Designing Democracy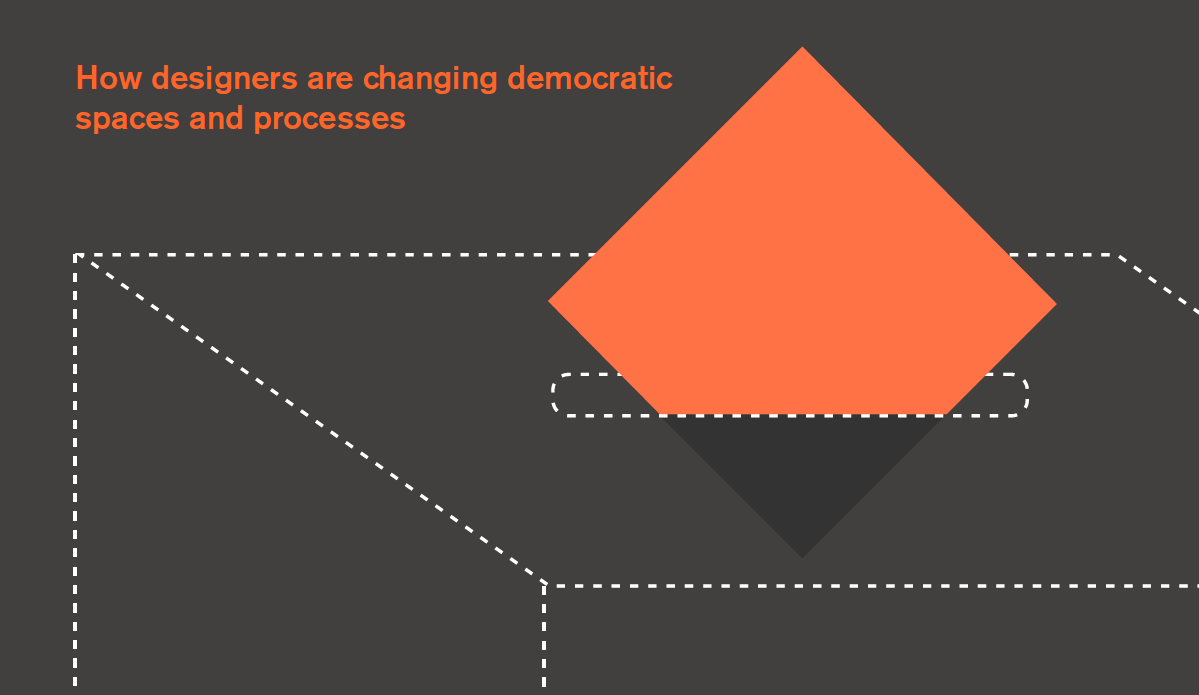 Designing Democracy: How designers are changing democratic spaces and processes
An inquiry by the UK Design Commission
March 2015
Abstract
Featuring essays from leading designers, MPs and policymakers, 'Designing Democracy' asks what contribution design could make to improving both participation in the democratic process and communication between electors, those who seek election, and those who have been elected.
Co-Chaired by John Howell MP and Dr. Richard Simmons, the essays investigate key questions surrounding democratic engagement, not least the ongoing trend towards declining election turnouts and increasing voter apathy. In particular, the publication asks what role design can play in reversing this trend and reinvigorating democratic engagement in the UK, particularly at grassroots level. How can we use design to help people understand why their vote counts? How can design improve the experience of voting? How will design shape the future of democracy?
The publication was launched in the UK Parliament on 23rd March with a follow-up debate event held in the V&A on 10th April.
Table of contents
SECTION 1: PARLIAMENT BUILDINGS
The Welsh Assembly – by Lord Rogers of Riverside, Rogers Stirk Harbour and Partners (RSHP)
The People's Palace – by Carole-Anne Davies, Design Commission Wales
The Scottish Parliament – by Karen Anderson, Architecture and Design Scotland
The Future of the Palace of Westminster, by Design – by Kate Jones, Design Council
Competition to host a Northern Parliament – by Julian Smith MP and the Rt Hon Frank Field MP
SECTION 2: DIGITAL OPPORTUNITIES
Reflections on Design and the Digital Democracy Commission – by Rt Hon John Bercow MP, Speaker of the House of Commons
Designing Democracy – by Julian Huppert MP interviewed by Ben Terrett, Government Digital Service and Naomi Turner, Policy Connect
Democracy and the role of social media – by Laura Haynes, Appetite
SECTION 3: OTHER VOICES, OTHER WAYS
New Spaces of Democracy – by Kieran Long, V&A
Internet-era citizen movements and political parties – by Francesca Bria, Nesta Innovation Lab
Designing Democratic Innovations – by Geoff Killy
Learning from Constituciòn – by Dan Hill, Future Cities Catapult
SECTION 4: THE STUFF OF DEMOCRACY
Political Design: Simplification is Key – by Dr Chris Burgess, People's History Museum
Good Law: how can the design of Bills and Acts help? – by Hayley Rogers, Office of the Parliamentary Counsel, Good Law Initiative
The Ballot: A Brief History of Information Design – by Naomi Turner, Policy Connect
Census – by Cassie Robinson, Civic Bureau and Louise Armstrong, Forum for the Future
The Open Manifesto – by James Smith, somethingnew.org.uk
SECTION 5: DEMOCRACY, LOCAL AND HYPER-LOCAL
Design and Neighbourhood Planning – by John Howell OBE MP FSA
Let's Play a Game: Using civic board games for local democratisation – by Dr Richard Simmons
Understanding Community in the Social Age – by Rowan Conway, RSA
Designing democracy and democratising design – by Michael Kohn, Stickyworld
Designing processes for designing places – by David Janner-Klausner, Commonplace Digital Ltd
SECTION 6: THE PUBLIC REALM
Public Space and Democracy – Voting with our Feet – by Jason Prior, AECOM
The real design project of democracy – by Sam Jacob, Sam Jacob Architects
The UK Design Commission
The Design Commission, the in-depth research arm of the UK Government's All-Party Parliamentary Design & Innovation Group, is composed of parliamentarians and leading representatives from business, industry and the public sector. Its purpose is to explore, through research, how design can drive economic and social improvement, and how government and business can better understand the importance of design.