Ethnographic stories for market learning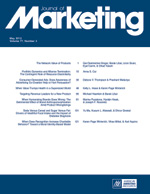 The July 2013 issue of the Journal of Marketing (a publication of AMA, the American Marketing Association) describes the results of a comprehensive study (pdf) by Julian Cayla and Eric J. Arnould on the way various organizations use ethnography to better represent the customer's lived experience to managers.
The authors' findings highlight how in many leading firms, ethnographic stories play a creatively disruptive role in: 1) challenging firms' received wisdom about consumer behavior; 2) helping managers walk in the customer's shoes; and 3) developing new business ideas.
In these three areas (market understanding; consumer empathy; market innovation), ethnographic storytelling has been a driving force in improving the tracking of market evolution, changing the way organizations connect with consumers, and stimulating innovative thinking.
"Although ethnography has become a popular research approach in many organizations, major gaps exist in the field's understanding of the way it operates in the corporate world, particularly in how ethnography facilitates market learning. Drawing from extensive fieldwork in the world of commercial ethnography, the authors describe how ethnographic stories give executives a unique means of understanding market realities. By working through the rich details of ethnographic stories infused with the tensions, contradictions, and emotions of people's everyday lives, executives are better able to grasp the complexity of consumer cultures. Overall, this research should help managers leverage the catalytic effects of ethnographic storytelling in their efforts to learn about and understand market contexts."
Julien Cayla is Assistant Professor of Marketing, Nanyang Business School; Research Fellow at the Institute on Asian Consumer Insight; and Visiting Professor, Euromed Management. Eric J. Arnould is Professor of Marketing, University of Bath, and Visiting Adjunct Professor, Southern Denmark University.