Experientia designs mobile site for UN affiliate to promote mobile learning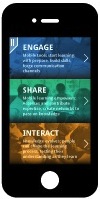 This week, the ITC-ILO, a United Nations affiliate, officially launched an Experientia-designed mobile site to promote mobile learning tools within the organisation.
The mobile site is an internal communications tool to showcase best practice mobile learning use within ITC-ILO, and it has been designed to be optimally viewed from a smartphone or tablet.
The ITC-ILO is the training arm of the UN's International Labour Organization. Based in Turin, Italy, ITC-ILO runs training, learning and capacity development services for governments, employers' organizations, workers' organisations and other national and international partners in support of Decent Work and sustainable development.
With the dominant shift to mobile learning, ITC-ILO is keen to demonstrate how it uses mobile tools within its programs and frameworks, and to promote future use of mobile tools to extend ITC-ILO's activities into a variety of settings, through a broader range of interactions with people, exploiting different types of content.
mobile.itcilo.org focuses on the three key advantages of mobile learning: improved ability to engage participants, with dynamic content, and lasting contact; more opportunities to share knowledge, from one to many, and from many to many; and the ability to connect and interact with information in new ways, generating meaningful insights and providing access to expertise and resources.
Experientia designed the site, and helped to develop the content and promotional materials. The site is optimised for iOS and Android, offering an excellent user experience from smartphone and tablet, as well as from desktop PC. It's online at mobile.itcilo.org.