Experientia report: Design for ageing gracefully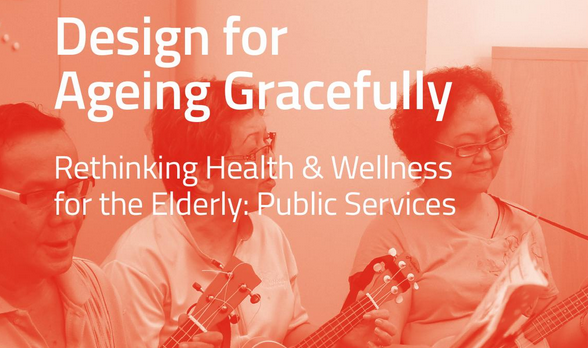 Design for Ageing Gracefully
Rethinking Health and Wellness for the Elderly: Public Services
Asian Insights & Design Innovation, DesignSingapore Council
October 2015
Issuu version *
As we age, we increasingly depend on public services and the community for support. Well-designed public services can greatly affect the lives of the elderly and their experiences of healthcare. Experientia collaborated with DesignSingapore Council on understanding how the elderly interact with public services and how we can look towards improving their lives with design.
On 1 October, DesignSingapore Council launched the book "Design for Ageing Gracefully – Rethinking Health & Wellness for the Elderly (Public Services)", that it co-developed with Experientia, the global user experience research and design consultancy.
The publication is the result of a major research ethnography and service design project focused on elderly Singaporeans and their caregivers. The project was conducted in anticipation of a profound upsurge in the aged population in Singapore – and how design can help to support, even enrich, the process of ageing. It identifies global trends in the healthcare industry and gaps in people's experiences in using existing healthcare services, and proposes design innovations for Singapore's public healthcare system.
The project involved the team of the DesignSingapore Council's Asian Insights & Design Innovation (AIDI), in addition to Experientia, and is part of the broader "Rethinking Health and Wellness for the Elderly programme" steered by AIDI, with the participation of healthcare professionals, infocomm specialists and designers.
* The publication can now be viewed in Issuu. [Note that Issuu is Flash-based. If you don't have Flash installed for security reasons, please open the link in Google Chrome].