From people to prototypes and products: ethnographic liquidity and the Intel Global Aging Experience study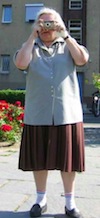 The
latest Intel Technology Journal
(Volume 13, Issue 30 reports the research and development activities of the Intel Digital Health Group and its colleagues.
One article, entitled "From people to prototypes and products: ethnographic liquidity and the Intel Global Aging Experience study", documents how a large-scale, multi-site, ethnographic research project into aging populations, the Global Aging Experience Study, led to the development of concepts, product prototypes, and products for the independent living market.
Successfully leveraging the output of ethnographic research within large organizations and product groups is often fraught with challenges. Ethnographic research produced within an industry context can be difficult for an organization to thoroughly capitalize on. However, careful research design and sound knowledge transfer activities can produce highly successful outcomes that can be thoroughly absorbed into an organization, and the data can lend itself to re-analysis. Our research was conducted by the Product Research and Innovation Team in the Intel Digital Health Group, and the work was done in Europe and East Asia, eight countries in all. Using a mixed methodology, our research examined health and healthcare systems in order to chart the macro landscape of care provision and delivery. However, the core of our study was ethnographic research with older people, and their formal (clinical) and informal (family and friends) caregivers in their own homes and communities. Data from this study were organized and analyzed to produce a variety of tools that provide insight into the market for consumption by teams within the Digital Health Group. As the results of the research
were driven into the Digital Health Group and other groups within Intel, it became clear that the Global Aging Experience Study possessed what we term ethnographic liquidity, meaning that the data, tools, and insights developed in the study have layers of utility, a long shelf life, and lend themselves to repeated and consistent use within and beyond the Digital Health Group.