Future phones to read your voice, gestures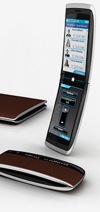 Wired's Gadget Lab blog contemplates the future of the mobile phone:
Buttons are on their way out.

Five years from now, it is likely that the mobile phone you will be holding will be a smooth, sleek brick — a piece of metal and plastic with a few grooves in it and little more.

Like the iPhone, it will be mostly display; unlike the iPhone, it will respond to voice commands and gestures as well as touch.

"So much of how we understand technology is visually driven," says Rachel Hinman, a strategist with Adaptive Path, a user-experience and design-consulting firm. "Mobile interface design has to mimic the touch, sight, gesture and auditory feeds that we use to interact with our environment."

That means speaking to your phone rather than typing, pointing with your finger instead of clicking on buttons, and gesturing instead of touching. You could listen to music, access the internet, use the camera and shop for gadgets by just telling your phone what you want to do, by waving your fingers at it, or by aiming its camera at an object you're interested in buying.
(via Usability News)