HeadCon '13: What's new in social science?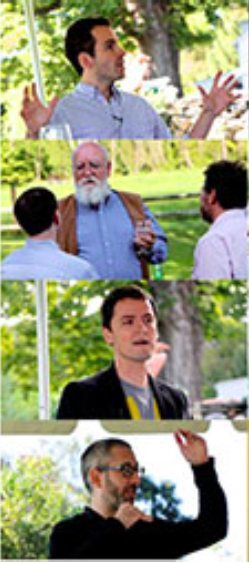 In July, 2013 Edge invited a group of social scientists to participate in an Edge Seminar at Eastover Farm focusing on the state of the art of what the social sciences have to tell us about human nature, entitled "HeadCon '13: WHAT'S NEW IN SOCIAL SCIENCE?".
The ten speakers were Sendhil Mullainathan, June Gruber, Fiery Cushman, Rob Kurzban, Nicholas Christakis, Joshua Greene, Laurie Santos, Joshua Knobe, David Pizarro, and Daniel C. Dennett. Also participating were Daniel Kahneman, Anne Treisman, and Jennifer Jacquet.
"We asked the participants to consider the following questions: "What's new in your field of social science in the last year or two, and why should we care?" "Why do we want or need to know about it?" "How does it change our view of human nature?"

And in so doing we also asked them to focus broadly and address the major developments in their field (including but not limited to their own research agenda). The goal: to get new, fresh, and original up-to-date field reports on different areas of social science."
Here are the videos:
The event was also an experiment in online video designed to capture the dynamic of an Edge seminar, focusing on the interaction of ideas, and of people. The documentary film-maker Jason Wishnow, the pioneer of "TED Talks" during his tenure as director of film and video at TED (2006-2012), filmed the ten sessions in split-screen with five cameras, presenting each speaker and the surrounding participants from multiple simultaneous camera perspectives.
Edge now presents the program in its entirety: nearly six hours of Edge Video and a downloadable pdf of the 58,000-word transcript.