Hospitable Hospice, Redesigning Care for Tomorrow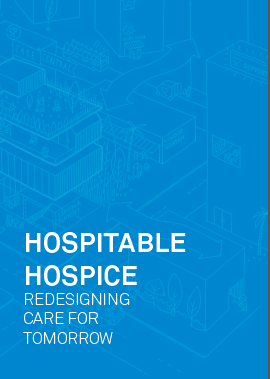 Design for good death
Hospitable Hospice, Redesigning Care for Tomorrow
An IDEA 2014 Award winner research project
Free download: issuu, pdf
Existing healthcare systems can make the end-of-life experience more frustrating and undignified. The Lien Foundation and ACM Foundation (Singapore) in collaboration with fuelfor design consultants have published an experience design handbook, pdf). Its aim is to raise the universal standard of hospices, the service providers of end-of-life care.
Hospices suffer a poor image. They deserve to be better understood by society, to become a welcomed part of lifelong care services. An ageing population affects not only Singapore but is a worldwide phenomenon, so designing better palliative (non-curative) care services is of great relevance globally.
The team is proposing seven universal experience design concepts. They envisage a new service that is community-integrated, personalised in care and that helps all stakeholders navigate the end-of-life journey with greater confidence. The ideas range across diverse levels of opportunity; ideas like a Goodbye Garden can add dignity to the way that the deceased leaves the hospice. While others like the toolset for baking Thank you Cookies encourages patients to express their feelings in memorable ways. Besides many thought-provoking ideas, the handbook offers a set of 24 Experience Design Principles for designers involved in future hospice projects.
The researchers believe that the Hospitable Hospice handbook can create more conversations about death and dying – in the same way we can speak about marriage and birth – free from stigma, fear and taboo.