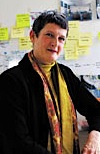 Clare Brass is the team leader of Sustain at the Royal College of Art in London, where she presides over a radical initiative to make sustainability a core issue for all students, whether they are studying architecture, textiles, visual communications or industrial design.
Rather than training designers to make yet more beautiful objects, Brass's ambition is to show them how to tackle some of the largest problems we face on the planet: waste, depleted natural resources and overconsumption.
The Financial Times profiles her and her initiative.