Interview with the director of UX of the New York Times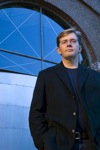 Vicky Teinaki
talked to
Alex Wright
, Director of User Experience at The New York Times, and author of
Glut
, a book on the history of information architecture from human evolution to the internet, about how a librarian gets into user experience, why the New York Times doesn't talk about readers anymore, and how the web might have been better had history been different.
Can you talk about the work you do?

I manage a small team responsible for conducting research into how our users (formerly "readers") interact with the Times, both online and in print. We work closely with our design and product team to evaluate new product ideas, and to identify opportunities for improving the user experience.

In addition to traditional user testing, we also use a range of other research methods like ethnography, surveys, community panels and A/B testing, among others. I have also had the chance to do some design work (e.g., on the NYTimes iPhone app), and to write an occasional piece for the paper.