Neurologist: Mobile technology is literally changing the way we think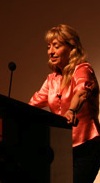 Leading neurologist Susan Greenfield tells Nokia Conversations that we need a new framework to make sense of our 'mobile world'
Her argument is that mobile technology, and what we do with it, is now at the center of our family and social life, like the piano was for the Victorians and the TV was for baby boomers. But it's even bigger than that, because it's mobile, of course; so we not only do it at home, we do it at work – we do it everywhere.

"I don't want to turn the clock back," says Greenfield, "My concern is not that we have too much technology – but that we are not making the most of it."

With huge increases in life expectancy, and demands for a better quality of life, we should be acutely aware of how we are harnessing technology for our own development.