New usability report on the online travel sector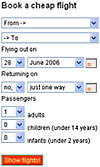 The UK usability firm
Webcredible
has published a usability white paper on the online travel sector, based on a comprehensive study of online flight booking services on 25 travel websites in June 2006.
Webcredible states that poor usability, including hidden charges, cumbersome search functions and booking forms that are hard to find, is driving away customers.
The company presents ten key guidelines to help online travel companies significantly improve the user experience and effectiveness of their website.
Though based on the online flight booking process, many of the guidelines are valuable and transferable to other online travel sectors, such as booking holidays, hotels or car hire.
Practical advice and examples of best practice are provided throughout the report.