Peeps Magazine: anthropology for non-anthropologists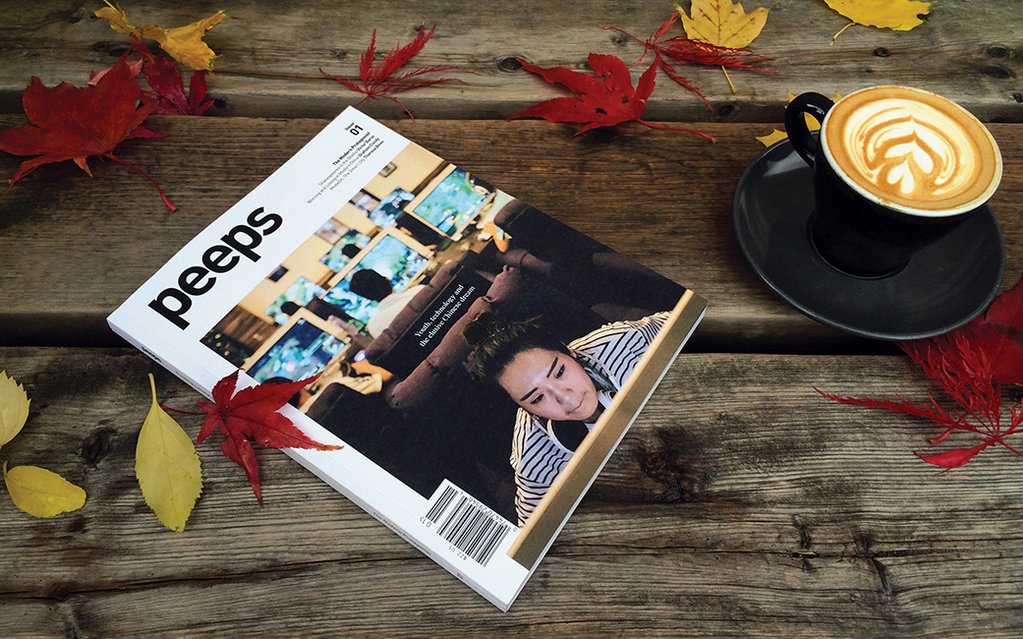 Today we received a hard copy of Peeps, a new and impressive magazine that presents itself as "anthropology for non-anthropologists", aimed at putting "culture and context before events, bringing investigative stories from corners around the world, and offering readers engaging analysis and authoritative insight into contemporary human affairs".
According to an article in Anthropologizing, the Toronto-based magazine – edited by Aliah El-Houni and Anya-Milana Sulaver – is "the first of its kind to offer the insights and stories of anthropologists and human scientists in a popular format alongside world ­class photojournalism, illustration and stunning design.
Issue One is entitled "The Modern Protagonist." It looks at how technology has become a central figure in the growth and development of modern culture.
Here is the table of contents:
10 – World on the Street
Perspectives from people around the world on the role of technology in their lives.
16 – How to Bank in Kimbe
Written by Eve Houghton – Illustrated by Bernat Solsona
Exploring the development of banking culture in Papua New Guinea
22 – The Game of School
Written by Susan D. Blum – Illustrated by Bernat Solsona
A satirical look at what students are learning in American higher education
30 – The Human Element at Microsoft
Interview by Aliah El-Houni – Photographed by Meryl Schenker
Speaking with Microsoft's Sam Ladner about what it means to be sociologist for the world's biggest software company
38 – Mobile Autonomy
Written by Deepa S. Reddy – Photographed by Ankush Samant
How mobile culture is circumventing traditional gender roles in India
44 – Shakespeares in the Ghetto
Written by Victor Barac – Photographed by Marko Drobnjakovic
How digital technology has allowed an American artform to flourish in New Belgrade, Serbia
72 – Winning and Losing in Modern China
Written by Graham Candy – Photographed by Yuyang Liu
Investigating the emerging trend of self-identified losers on the Chinese internet
92 – Medellín, the Smart City
Written by Theresa Bean – Photographed by Alex Zuluaga & Cassi Alexandra
The story of a city recovering from conflict and finding its voice with the help of media technology
112 – Beyond the Disease
Written by Gavin Johnston – Illustrated by Tony Rodriguez
Unveilling how the struggle for identity can become a matter of life and death for young men living with hemophilia
120 – A Storied Commute
A photo essay by Reiner Gerritsen – Words by Emma Louise Backe
The stories we tell ourselves and others while unplugged on our daily commutes
130 – The Daughters of Reykjavik are on YouTube
Written by Viktor Baskin – Photographed by Steinar Kjelsted
Why one women's hip hop group is challenging gender, music and communication norms in Iceland
136 – Of Treasures and Trinkets
Written by Silvia Forni – Illustrated by Bernat Solsona
Revealing the politics and fragmented histories behind the Cameroonian Grassfields museums
142 – Tech in Cuba, The Rhetoric and the Reality
Written by Christina Venegas – Photographed by Alexandre Meneghini
Reflections on the role of politics and infrastructure in Cuba's technological development
(Thanks Peeps team for sending us the copy! It is making the rounds here in the office.)