Philips developed emotional clothing prototypes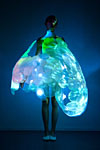 Philips Design developed a series of dynamic garments as part of the ongoing SKIN exploration research into the area known as 'emotional sensing'.
The garments, which are intended for demonstration purposes only, demonstrate how electronics can be incorporated into fabrics and garments in order to express the emotions and personality of the wearer.
The intricate wearable prototypes include 'Bubelle', a dress surrounded by a delicate 'bubble' illuminated by patterns that changed dependent on skin contact- and 'Frison', a body suit that reacts to being blown on by igniting a private constellation of tiny LEDs.
These garments were developed as part of the SKIN research project, which challenges the notion that our lives are automatically better because they are more digital. It looks at more 'analog' phenomena like emotional sensing and explores technologies that are 'sensitive' rather than 'intelligent'.
SKIN belongs to the ongoing, far-future research program Design Probe carried out at Philips Design. The aim of this program is to identify emerging trends and likely societal shifts and then carry out 'probes' that explore whether there is potential for Philips in some of the more promising areas.
According to Clive van Heerden, Senior Director of design-led innovation at Philips Design, the SKIN probe has a much wider context than just garments. "As our media becomes progressively more virtual, it is quite possible in long term future that we will no longer have objects like DVD players, or music contained on disks, or books that are actually printed. An opportunity is therefore emerging for us to completely rethink our interaction with products and content."
– Read press release
– View images
UPDATE via Reuters:
German fashion designer Anke Loh launched a new collection, "Dressing Light," in which each garment incorporates Philips' new photonic fabric — which has arrays of light-emitting diodes that can display text, graphics and animation.
(via we-make-money-not-art)